دوري بلس - Dawri Plus
تطبيق دوري بلس هو تطبيق خاص جدا يقدم بواسطة شركة الاتصالات السعودية STC ويتيح لكل عشاق الكرة السعودية خدمة البث الحي لجميع مباريات الدوري السعودي في خبرة مميزة ومبتكرة تسمح بمشاهدة مباريات الدوري مباشرة على اجهزة الجوال بشكل تفاعلي

ويحتوي تطبيق جوال دوري بلس على العديد من الميزات كالتالي:

-البث الحي لجميع المباريات عبر جهاز الجوال.
-ارشيف لجميع مباريات الدوري السعودي حيث يمكن للمشاهد إعادة المشاهدة و التوقف عند اللقطات المميزة و اللحظات الممتعة من عمر المباراة بمجرد الضغط على زر التحكم و التشغيل.
- إحصائيات دقيقة و مفصلة وبشكل حي لكل مباراة توضح خطط اللعب لحظة بلحظة، الى جانب احصائيات اداء االفرق واللاعبين بالإضافة الى الخرائط الساخنة التي توضح مناطق تأثير اللاعبين في ارض الملعب.
-نشر مقاطع الفيديو المفضلة من اهداف المباريات واللقطات المثيرة و مشاركتها مع الأصدقاء عبر شبكات التواصل الاجتماعي على الإنترنت.
والمزيد


Dawri Plus application is the only Official Application of Saudi Football Championships.
Dawri Plus offers an unprecedented live streaming experience for Saudi Premiere League games. Users can now watch the games in an innovative way live on their mobiles and get access to a number of unique features such as:
• Archive from all the Saudi Premiere League games for the season - ready for access anytime
• Full DVD-type features at the users' fingertips
• Timeline of all the major events - where user can scroll back to any selected game highlight
• Access to real-time statistics around the players and teams (e.g., shots on targets, passes, possession, lineups, cards, substitutions)
• Intuitive Navigation
• Social Sharing and deep-linking
• And much more

Recent changes:
This release includes :
• Crown prince cup predictor game where Dawri Plus fans can play and get a great chance of winning awesome prizes for their correct predictions.
• New nice interfaces for the Saudi Pro League Fantasy and Predictor games.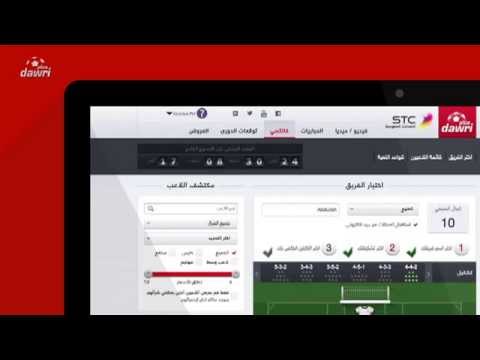 Write the first review for this app!