3D Cool Cube Free!
3D Cube live Wallpaper allows user to select the images from Gallery to set on the faces of cube, which moves around the screen randomly.
To set the photos from SD card create a folder in SD card/Phone and copy favorite images to the folder and chose that folder from settings of LiveWallpaper.
Touching on the face of the cube, makes cube to zoom.
Touch any where on wallpaper makes cube to move to that point, another touch on the screen sets the cube in random motion.
Cube size, speed, folder, and background colour of wallpaper can be customized through settings.

search keywords: cube, cubelivewallpaper, photocube, cubephoto

Recent changes:
Crashes fixed.
Launcher icon is added.
Icons updated.
Default image is loaded for the cube as soon as wallpaper is set, instead of white cube.
On Refresh interval expiry the new photo loading time is improved.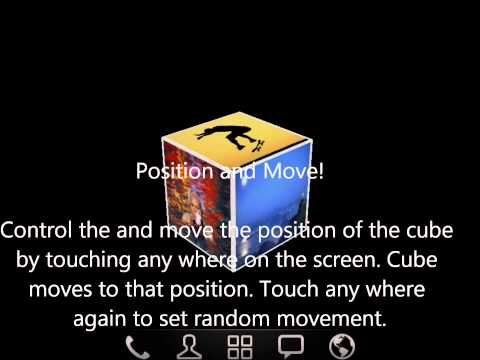 Write the first review for this app!