3D Crazy Ball : Physics Game
3D Crazy Ball is a Physics Game. In Each level you have to complete a different task using the physics elements provided by arranging them in the perfect order.

Tired of all old games on your electronic device? Don't worry; I have a game for you i.e. : 3D CRAZY BALL PHYSICS PUZZLE. It's a game which is unique in itself. It will help you get you get out of your bored life.
3D Crazy Ball: Physics Puzzle- its most unique feature is that it is not a childish game but physics based game, in which you are required to get through different stages of the puzzle. This game will also help you in the process of creativity.

A game, in which almost all your skills will be used, be it thinking capacity, or patience because it's a tricky one. There are many obstacles in the various stages but one can complete the levels if played with intelligence. You need to create paths to make the objects to reach target . This game is using advanced physics engine to simulate real game feelings.

This game also has cool background music and amazing effects, just follow the music to get your mind running. Prove your intelligence to your friends and share with others . You can also unlock new challenges and experience the real 3D experience as you move ahead in this game.

All you have to do is to move the ball and make it to roll down to the puzzle through various different levels by making new paths for the ball to move ahead.

A very good 3d game is Crazy Ball and it is a Physics Puzzle entertaining arcade game. Get ready to play its never ending game just try to get as far as you can. This game is super simple with different types of puzzle physics to complete. This is 3d ball game that everybody is talking about.

It's a FREE game!

Features:

*Exciting and Fun levels.
*In-game score & achievements.
*Compatible with all types of tabs and mobile
*Amazing 3D environment puzzle game
*Advanced physics engine to simulate real game feelings.
Share score worldwide.

So hurry up, what are you waiting for? Enjoy this game. Download Play your new game "3D Crazy Ball: Physics Puzzle" on Android Google Play!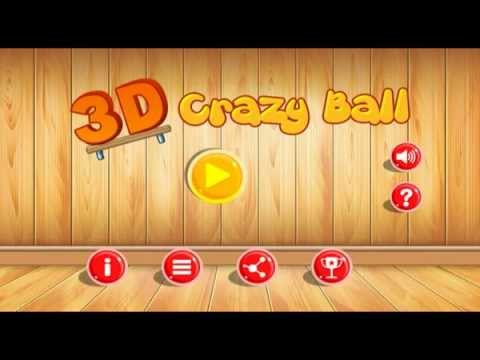 Write the first review for this app!