3D Radha Krishna Jhulan LWP
This Live Wallpaper is based on real-time rendering a real 3D scene not movie, with full support for landscape mode and home screen scrolling!

3D live wallpaper depicting Radha Krishna Jhulan reacting to gestures.

Developed with openGL ES 2.0, fully interactive. Both tablets and phones are supported.

Please support us by giving 5* rating

Standard Method:

1. On any homescreen, place a finger on the display and long press.
2. From the menu that pops up, select "Wallpapers."
3. From here, select "Live Wallpapers."
4. Here you will see a list of the live wallpapers that are installed on your device.
5. After selecting one, you can preview what your device will look like while the live wallpaper is applied.
6. If you like what you see, hit "Set Wallpaper."

Recent changes:
Some user have difficulty in finding LWP. We add standalone app, user can quickly preview and set wallpaper directly through this app. App also serve the purpose of clutter free viewing as there is no icons on top of it.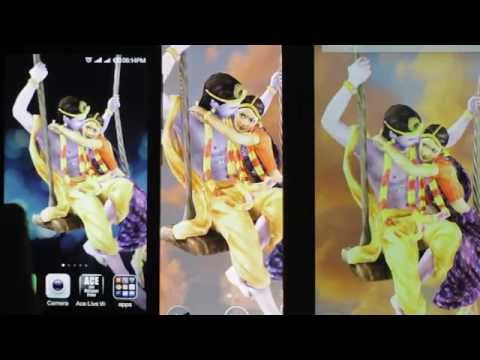 Write the first review for this app!