AOK (AOK.tv)
AOK is a 'social game for good' that makes sharing positive actions playful, rewarding and impactful. When you post an AOK (any positive action or observation) you're rewarded with Cause Currency points (or sponsored prizes) which are donated to real world causes and organizations that further social good!

How do you play? You can capture AOKs using our iPhone app, or submit them directly to our website. Share AOKs you did (aka your "Acts") or those you saw someone else doing (aka your "Observations"). Then add details and pictures to your AOKs – this makes them WAY more interesting - plus earns you more points!

What's the point of the points? Points convert into real dollars for real world charities and relief efforts (and brand-sponsored treats for you along the way)…that's the "AOK Impact". Done – Did it! Simple. Fun. And while you're leveling up and catching kudos from fellow gamers, you'll increase your own, and society's collective mindfulness at the same time!

Wondering what an AOK looks like, or where they're going on? Browse other players' AOKs and share them (oh yeah, we're rockin' the "share this" button so you can give props to your peeps and to AOKers you're impressed with) or check out our AOK map and see what's happening right next door and around the world!

Most of all don't get bogged down wondering if your Acts and Observations are AOK enough. Just playing means you're being mindful. And being mindful is the essence of all that is AOK. You'll level up and level within. You'll earn unique AOK rewards, and all the while make the world a better place.

A new kind of kind? That's AOK.

Recent changes:
AOK for Android has been completely updated and refreshed allowing you participate in the AOK community, interact with groups and earn Cause Currency for great organizations.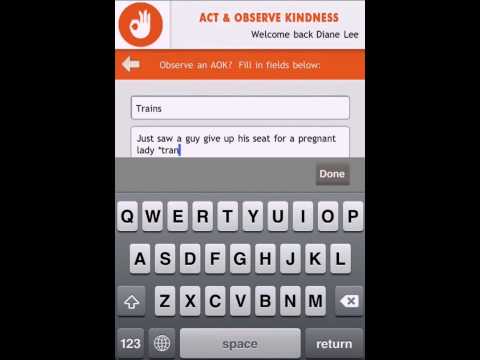 Write the first review for this app!