Are you clairvoyant?
Extra Sensory Perception (ESP) is the type of perceptions for which there is as yet no scientifically proven evidence, but no definitive refutation.

The definition of ESP includes all sensory experiences, perceptions and knowledge sources that are not conventionally explainable. This includes about telepathy or clairvoyance and just what you can take a ride on the side. This is the extrasensory perception of an actual event that one can not detect with conventional senses.

The existence of ESP is very controversial and is rejected by most scientists. But faith holds out stubbornly refuted and ESP is not indicated. Already in ancient times, many are alleged extrasensory perceptions handed down today and there were many reports of such experiences.

But you make it easy for yourself the test. If you achieve extraordinary results significantly, ESP will probably be possible. Try this online if you have psychic abilities. There are different methods, on the one hand playful nature, but even meet other scientific tests. Here on this site, you can try it online.

The tests

Regardless of whether there is clairvoyance - what is commonly meant by clairvoyance, can be basically only test by statistical methods. Such a statistical test is used in mathematics to make a decision on the basis of measurement results on the validity or invalidity of a hypothesis. You can't get Security on the validity of a hypothesis, but determine a probability, which can be calculated with mathematical formulas.

Your ESP is reviewed in this app with such a classical test procedure, which has been used for years. You always see the 'backside' of a purely randomly generated game card. This card shows invisible on the 'frontside' one of four filled symbols (circle, rectangle, cross and diamond) with differend colors.

Recent changes:
Buttonsizes changed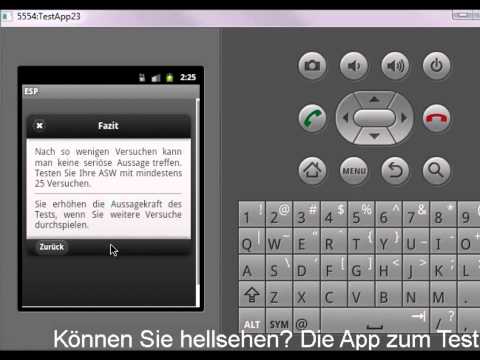 Write the first review for this app!
No comments in the Android market yet