ARM Miner Bitcoin Litecoin
PLEASE, READ FULL DESCRIPTION!

For pool-x use port 8000 instead of 8332.

This is a full version of ARM Miner without AD and any limitations. ARM Miner is the best cryptocoin miner for Android devices! Check how much KH/s you can get from your device and submit result into Top 100! Scrypt and SHA-256 algorithms are supported, so it can mine bitcoin, litecoin, novacoin, ppcoin, feathercoin and other alternative coins. ARM Miner is suitable for solo and pool mining, but Stratum protocol does not supported. It means that URLs started with "stratum" will not work.

It looks like Bitcoin mining don't work, I suppose that this is related with high network difficulty, so miner cann't submit shares. Hashrate value on mining pools calculated based on submited shares, no shares - no hashrate in pool statistic. I advice you setup Litecoin mining, because it is most profitable coin.

Recent changes:
Prevent miner stops when screen is off.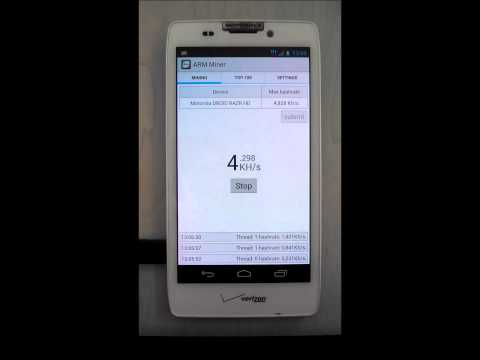 Write the first review for this app!