Battle Bears Pro
"Epic 3D FPS Action & Amazing Graphics!" -TopFreeShooters
OVER 35 MILLION SKYVU DOWNLOADS!
BEST APP EVER AWARDS WINNER! Best Action & Arcade Game
Daily Challenges & New Updates Every 2-3 Weeks!

PLEASE NOTE! Battle Bears Ultimate is completely free to play with some In App Purchase.

=RELEASE 1.4 FEATURES=
+ New Character Graham!
+ New Chest rarities!
+ Action Mode gives you a larger view of the battle!
+ Weekly Deals!
+ Announcers!
+ Facebook integration
+ Item collection!
+ Client and Server stability fixes!
+ Gameplay tweaks and balancing!

=FEATURES NEW CLAN SYSTEM & SUPER SMOOTH CONTROLS=
+ 4v4 Multiplayer Team Based Battles with Clans!
+ 4 Unique Characters with special abilities!
+ Tons of Weapons to unlock, upgrade & customize!
+ 5 Stunning Multiplayer Maps oozing with goodies!
+ Thousands of character customizations!
+ Over 10 combat consumables to help you dominate!
+ Send Private Messages to your teammates!

JOIN MY CLAN! MAKE YOUR OWN! Hook up with friends in BB Ultimate by joining matches they are currently playing. Add them to your friends list and create a CLAN to take on the world together!

OVERCLOCKING makes its glorious return in Battle Bears Ultimate! Every characters has their own special version of OVERCLOCK, which will make you a god on the battlefield!

REGISTER TO WIN! Track everything on all of your devices with SkyVu Network. Save stats, loadouts, friends, and content you've unlocked, all on the cloud with your SkyVu Network Account.

Veteran of BATTLE BEARS GOLD (BBG)? Log into BATTLE BEARS ULTIMATE with your old account to get special rewards - only for Battle Bears Gold players!

Come back every day for a unique challenge that will hone your skills and push you to the limits.

NEW UPDATES EVERY 2-3 WEEKS! SO KEEP BBU INSTALLED!
Coming Soon:
*Co-Op Challenges
*Ranked Battles
*New Weapons
*New Characters
*New Maps

EASY TO PLAY! SO INTUITIVE YOUR GRANDMA'S CAT COULD PLAY IT! DOWNLOAD BATTLE BEARS ULTIMATE NOW AND INVITE YOUR FRIENDS!

SUPPORT, FORUMS, TOYS, and T-SHIRTS at:
www.BattleBears.com
LIKE US: Facebook.com/BattleBears
FOLLOW US: Twitter.com/BattleBears
WATCH US: YouTube.com/SkyVuTV
WATCH OUR VINES & INSTAGRAMs, follow BattleBears

Recent changes:
* New Chests
* New Character
* Weekly Deals
* Announcers
* Item Collection
* Facebook Integration
* Client and Server Stability fixes
So go out there BB Fans and find those rare chests to unlock Graham!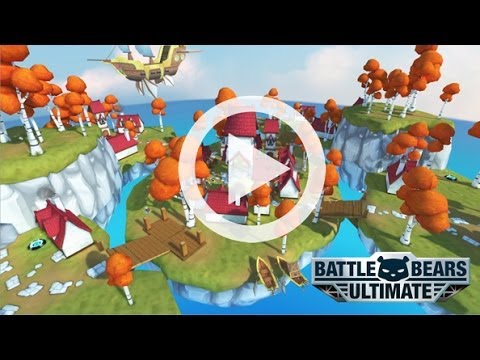 Write the first review for this app!