Bheema Tanpura Pro
Bheema Tanpura, is a concert quality tanpura synthesizer, now available for Android, iOS & Windows- phone platforms. The app supports 2 tanpuras each with 6 strings and more advanced and intimate controls.

I am a signal processing engineer by profession and Hindustani classical singer by passion. I have developed this app after rigorous analysis of the resonance of instrument. Connect your android device to good speakers and enjoy the sound in high fidelity. Ideally place the speakers at least 3 to 4 feet away for the best effect.

I have included several digitized tanpura profiles. Use them and adjust the tempo/pluck-style to get the best combination that suits your taste.


FYI : My great grand father made wonderful tanpuras from wood, about 80 years ago and in this digital age I have taken to computing !!! I will update the app with the profile of the only available tanpura he made..

* About Bheema Tanpura *

"This application takes its name from one of the greatest hindustani classical singers of our times, Pt Bhimsen Joshi, the maestro of Kiraana School of North-Indian classical music. He has been an inspiration for me and I belong to his school of Music; this software is a tribute to that great personality"


Enjoy the Naada and your new pair of tanpuras
Mukunda

* Acknowledgements *

Cover Painting : B Jagadish, A renowned painter from Bangalore
Calcutta tanpura : Courtesy, Omkarnath Havaldar of Bangalore

Recent changes:
V 2.3.4

* Minor GUI changes for tablets
* Some internal performance improvements
* Place holders for more profiles and re-organization
* Expect more intriguing profiles soon !!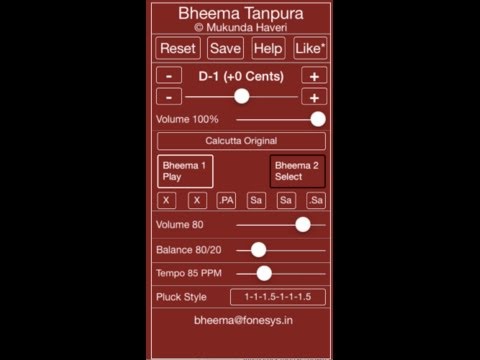 Write the first review for this app!