Birthday Countdown
Count down the days, hours, minutes, and seconds to your birthday with this app that will give you an exact time until your special day! Also customize the countdown by setting your own image in the background, and set the text color and size.

Want to be able to check when your birthday is quickly - why not add this as a widget to your homepage?! This great app now has an in-built widget!

Recent changes:
Version 3.21 - share to facebook, twitter, gmail, whatsapp
Version 3.17 - bug fix
Version 3.16 - added ability to change text size.
Version 3.0 - added widget for your home screen
Version 1.8 - Share with your friends and links to other great apps.
Version 1.5 - you can now set the text color.
Version 1.3 - now allows you to set the background to any of your pictures, or you can take a new picture using your camera.

Version 1.2 - now stores the previously entered birthday to prevent retyping.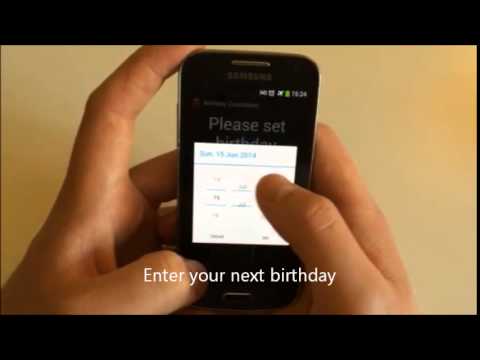 Write the first review for this app!