BiziFinder
BiziFinder helps businesses to grow their opportunities by developing smartphone apps on the business map. Our Ready Made Mobile Apps solution will quickly build your app on both Android and iPhone/iPad. Try our ready-made and ready-to-use app templates for your business. We have apps to sell products such as car, home and pizza or to sell services such as marketing, surveys, quizzes, trainings and consulting. See list of all apps on www. BiziFinder.com and check which one suite you. You make your app on web site and then it is available to million of users. These ready-to-use Apps offer ideal solutions for all kind of businesses.

You can select from variety of existing businesses Apps available in our App gallery. Using these apps, businesses can show their product's videos or photos and then collect customer order. Data or orders collected from App consumers are store in a database as well as sent immediately to App owner through email. User can see data in a graph form in the App.

How to build an app?
You can use or existing app and then modify it according to your needs. Alternatively, you can create your app from scratch using our easy-to-use app building tools. Check out App builder tool on our web site www. BiziFinder.com

App Gallery:
Below list shows some of the apps with their App Keys and App description.

BEDROCK - Training Tools for Digital Home Professionals
CAR01 - Sabbah Luxury Car Dealer
HYUNDAI - HYUNDAI - Your car of choice!
IVY01 - IVY TECH Community College
LANG01 - Conversa Language Center
LANG03 - Register at Conversa Language Center
MAINTAIN - Towne Properties Maintenance Services
PIZZA - Italian Pizza House
POLLS - Poll for President
PRICE01 - Price is Right
PRPT01 - Shehbaz Clifton Property
RESERVE - Restaurant Reservations
SERVICE - National Home Maintenance Services
TIDE - Tide Laundry Detergent
TRVL01 - Sabbah Travel Packages
TRVL02 - Sabbah Palace Hotel Reservation

Quick Steps:
Below is summary of steps you need to follow to build your App
1. Install "BiziFinder" on your Android or Apple device from App stores.
2. Go through list of apps available in our App Gallery present on our web site www. BiziFinder.com.
3. Select Apps that are closer to your business needs.
4. Copy selected App and assigns a key.
5. Make necessary modifications as per your need.
6. Test your App.
7. Distribute App key to your customers
8. Customers install BiziFinder and load your app using App key
9. Customers view your product or service information on their devices and submit orders.
10. Orders will be stored in database, as well order details will be sent through email to your business email address.

How it works?
1. Select a similar App from our App Gallery:

First, install "BiziFinder" on your Android or Apple device. Then go through list of apps available in our App Gallery present in www.BiziFinder.com and select Apps that are closer to your business needs. Load selected Apps in BiziFinder and test them.

2. Distribute your app:
After satisfactorily testing this App on your device, you will broadcast to your customers about this new App. Invite them to install this app on their devices. After installing App engine, customers will download your app by entering your business name that you assigned to your app on our web site. Customers will start using your App and sending responses the way you developed in your app.

3. Receive data from your app:
Whenever customer submits responses through app, these responses will be store in the database. More you will immediately receive that response through email. If you need to analyze customer response data, you can download from our web site. You can put this data in excel sheet and develop graphs as per your need.

Recent changes:
Now users can search businesses by address or by keywords. Results are shown in map and list view.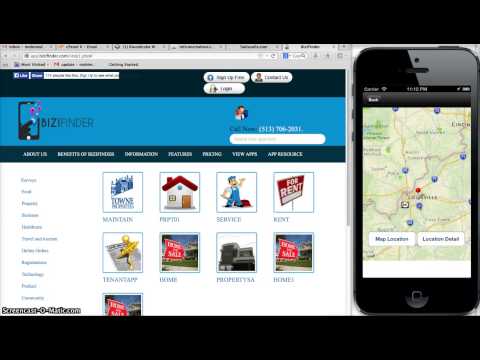 Write the first review for this app!