Black Hole Ad-Free LWP
How universe could look like near a black hole?
Maybe this way...
Get smooth animated live wallpaper for your phone!

Features include:
- thirteen different spectacular effects,
- eight different textures from outer space,
- 13 x 8 = 104 different possible settings!
- works only when visible to save battery,
- optimized for GPU for smooth animation.


HOW TO USE:
- Hit "Menu" or Longhold on your homescreen
- Select "Wallpaper"
- Select "Live Wallpapers"
- Choose 'Black Hole Live Wallpaper'

What is inside black hole?
At the center of a black hole as described by general relativity lies a gravitational singularity, a region where the spacetime curvature becomes infinite. For a non-rotating black hole, this region takes the shape of a single point and for a rotating black hole, it is smeared out to form a ring singularity lying in the plane of rotation. In both cases, the singular region has zero volume. It can also be shown that the singular region contains all the mass of the black hole solution. The singular region can thus be thought of as having infinite density.
Observers falling into a Schwarzschild black hole (i.e., non-rotating and not charged) cannot avoid being carried into the singularity, once they cross the event horizon. They can prolong the experience by accelerating away to slow their descent, but only up to a point; after attaining a certain ideal velocity, it is best to free fall the rest of the way. When they reach the singularity, they are crushed to infinite density and their mass is added to the total of the black hole. Before that happens, they will have been torn apart by the growing tidal forces in a process sometimes referred to as spaghettification or the "noodle effect".
This wallpaper tries to simulate possible space-time behaviour near singularity.

TAG:
Wallpaper, Live wallpaper, 3d wallpaper, realtime rendering

Recent changes:
1.8
- removed unnecessary permissions,
- wallpaper is more responsive to touch,
- fixed URL for sharing info about app,
1.5
- fixed exception caused by proguard optimization,
- DOUBLE TAP for instant menu access when wallpaper is set,
- thirteen! different effects,
- NEW icons!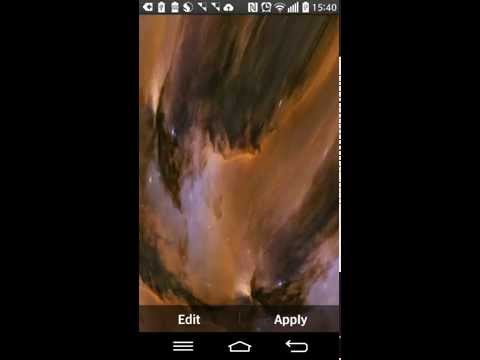 Write the first review for this app!