Brick Challenge
Brick Challenge - Arkanoid and Breakout -style brick breaker game. With a twist.

Break the bricks with the ball for coins while keeping the ball in play.
Use the coins to get some helpful things for Your journey through all the 110+ levels.

Specially the PRESSURE -mode will make you grin with satisfaction once you get hang of it, this is something that hasn't been available in this form before!

If you don't breeze through the levels at once, don't worry. Brick Challenge is supposed to be a bit harder than most of the games of the type (hence the CHALLENGE). But don't worry, it is totally doable leading to great sensation of success when you beat the levels!

A bit more challenging yet fun way to kill some time.
Lots to play for free, but you can support our development by buying the ad-free version. We would appreciate it very, very much.

Spread the word, rate the game and leave a comment.
Thanks.

* 3 different game modes
* 110+ levels after the holiday update

Recent changes:
1.2.5 - small bug fixed & pressure levels 47 and 52 tweaked a bit
1.2.4 - quality tweaks
1.2.3 - quality tweaks
1.2.2 - added possibility to use coins to get past levels + few minor tweaks
1.2.1 - seven new speed levels, some small overall tweaks, ever so slightly higher start for pressure lvl5 bricks since it was too hard to complete after last update
1.2.0 - loads of new levels, timer in speed mode, ball launch delayed a bit, visual goods, lots of work under the hood and so on!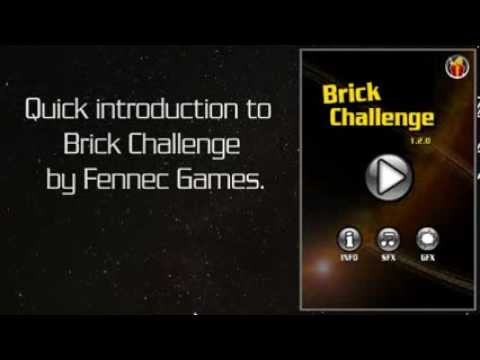 No comments in the Android market yet