BuilDota2 for Dota 2
BuilDota2 is the brilliant and the only hero build maker (calculator) for all Dota 2 players, from novice to pro.


Need to check details of some hero abilities? Curious which item provides the best effect on which attribute? Want to compare item builds on the fly and see which is the best for the chosen role? Then this tool is just what you need!
Basically it allows you to find all in-game needed information about heroes and items. Bla-bla-bla… you've faced it many times already…
You need MOAR! So get it - full information about a hero state on any desired level with any chosen item.


Unique features:
★ Items fit on with immediate update of hero information;
★ Abilities calculation (for example, Tiny Grow);
★ Physical and magical effective hit points calculations;
★ Damage per second calculations;
★ Level slider to see how heroes evolve as they gain levels;
★ Animated 'live' avatars pack;
★ Dota fan friendly interface;
★ Works without internet connection;


Core features:
★ Always up-to-date hero & item database;
★ Full hero information (stats, attributes, abilities etc.) with detailed tooltips;
★ Saving hero builds locally;
★ Hero salutation sounds;
★ Heroes bio and tips.
★ Item receipts.


Upcoming features in the next releases:
- Correct and full Invoker calculation with detailed data about all his abilities.


Additionally, you may visit http://www.buildota2.com/ for even deeper immersion in the Dota Universe. Both, tool and site, evolve non-stop to satisfy your needs in the best way.


There are some flaws exist now:
- items with changeable characteristics, such as Necronomicon or Dagon, are represented in initial state. We will add possibility to choose a state for such items in the next release;
- abilities of the Invoker have uncommon nature with distinct effects and level count, which takes additional severe efforts for implementation. We decided to leave this hero and allow to try on different builds, while we promise to provide the correct ability mechanic in close future;
- random attribute value shift on 1, caused by unpredictable rounding in fraction calculations.


Legal Disclaimer: THIS TOOL IS NOT CREATED, SPONSORED OR ENDORSED BY VALVE CORP. This tool is not an official or connected to the game's developer or publisher. All in-game descriptions, characters, locations, imagery and videos of game content are copyright and or trademark to their respective owners and usage for this game service falls within fair use guidlines. This app is created by players for players, with the intent of providing a tool where players can improve their knowledge about heroes, items and build of this great game we all love.

Recent changes:
- Updated for 6.82c.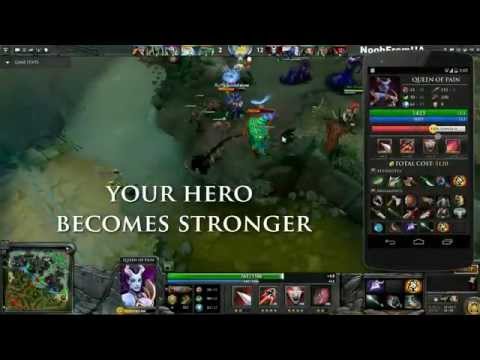 Write the first review for this app!