CALKIE TALKIE PRO
SIMPLE AND POWERFUL TALKING AND DICTATING CALCULATOR WITH 30 SIMPLE USEFUL AND CUSTOMIZABLE MEMORIES.

TOUCH THE QUANTITY OF ONE MEMORY TO GET IT QUICKLY.

WITH A SIMPLE FINGER SLIDE YOU CAN NAVIGATE BETWEEN THE 30 MEMORIES.

ERASE ONE CHARACTER OR KEEP PRESSING TO ERASE ALL THEM.

CHOICE YOUR FAVORITE COLOR.

SEE ONLY THE CALCULATOR OR ONLY THE MEMORIES OR BOTH.

COMMAS EVERY 3 DIGITS FOR EASE READING.

UNTIL 6 DECIMALS.

PERCENTAGE FOR BEGINNERS.

LISTEN THE RESULT WITH VOICE (TURN ON THE VOLUME)

BACK ANY TIME TO YOUR CALKIE TALKIE WITHOUT LOOSE YOUR CALCULATIONS.

STORE THE MEMORIES DATA IN FILES EASILY.

DICTATE WITH YOUR VOICE THE QUANTITY TO YOUR CALKIE TALKIE EASILY.

FIRST UNINSTALL CALKIE TALKIE FREE PLEASE.

NOT FOR SMALL SCREENS. NOT FOR TABLETS.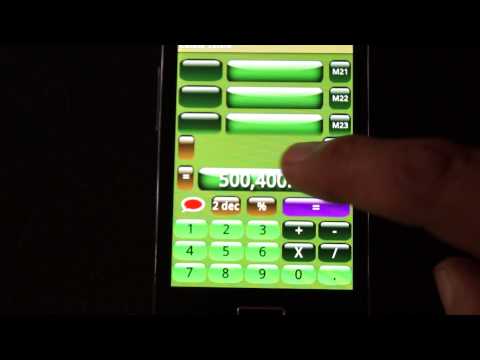 No comments in the Android market yet