CallEraser (Widget)
Video for CallEraser (Widget) snippet:
http://www.youtube.com/watch?v=fneA__3rE4M

CallEraser (Widget) is designed to erase from your handset all call records to-and-fro a designated phone number. This number is shown on your handset only at connecting and at talking. The corresponding call records will be erased after hang up. When there is any missing call, the call record will be erased as well. The main screen will then be brought to "Call History" in order to notify you of the missing call.

In addition, CallEraser (Widget) provides you a way to further secure your privacy by removing the Widget icon from you Android home screen. People will not know that you are using this widget to erase some call records.

The following step should help you set up the Widget:
1.On your Android home screen, tap any blank or "empty" area and hold down your finger.
2. An "Add to Home" screen window will pop up. From that window, tap "Widgets".
3. You'll be presented with a list of all the installed Widgets on your Android device. Select the CallEraser Widget.
4. Now the widget icon will appear on your home screen. Tap the widget and hold down your finger again – this time you can "drag" it to the location on the screen you want it to reside.
5. Tap the CallEraser Widget to start the setting up process by designating a phone number of call records you want to erase.
6. To prevent someone else from finding out the designated phone number, there will be no dialogue frame to check the designated number after confirming it. Please carefully entering and confirming the designated number.

Should you decide you want to hide the widget icon from your home screen, tap it and hold your finger down. You'll notice that the "slider" that normally brings up all of your installed programs turns into a "Trash can". Drag the widget to that trash can. Both the widget and the trash can will turn red. At this point, let go of the widget (release your finger). That will "drop" it in the trash.
Note: this does not actually uninstall the widget. It just removes it from your home screen.

If you decide to change the designated number, you have to reset this application by the following uninstall procedure:
Settings->Applications->Manage applications->CallEraser->Clear data

The sole purpose of CallEraser is to provide users with better privacy control. This application, however, can only erase records from your handset. It does not change the call records shown on your phone bill. Neither does it prevent your mobile carrier from revealing the phone number under certain circumstances. Please be aware of the fact that some mobile carriers send short messages to notify users when there are missing or blocked calls.

As privacy control is the only purpose of this application, Olemap Inc. is not liable for any extended usage or wrongdoing of this application.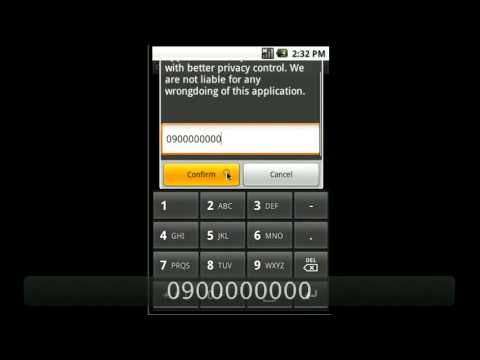 Write the first review for this app!
No comments in the Android market yet