Capture Screenshot
Capture Screen Plus is the simplest way to capture your device's screen and share with friends.



TRANSLATION

Thank you Francisco Ferreira for helping us in translating to Spanish language.

Thank you Gleb Botezat for helping us in translating to Russian language.

Thank you Hassan Akouh for helping us in translating to Arabic language.

Thank you Micks 29 (http://forum.xda-developers.com/member.php?u=5178843) for helping us in translating to French language.

Please help us in translating this mobile app for your own usage. Please go to:


http://ackuna.com/translate-/capture-screen-plus - Capture Screen Plus Translation Project


and do the needful. We will be putting up names of the people in this page who help us in this translation effort.



HIGHLIGHTS

» Share what you view on your device screen with your friends.

» Developers can use it to take screen shots of their android applications.



FEATURES

» Easy to use interface.

» Option to take screenshots via Notification, Overlay button and Shake methods.

» Option to automatically start or stop the screenshot service with device reboot.

» Option to choose save formats (png or jpg) for screenshot.

» Option to select directory for saving screenshots.

» Option to rename screenshot file.

» Option to save, discard and/or share the screenshot with friends.



Note: If the device is running a version lower than Android ICS (i.e. version < 4.0) and the device is non rooted, this application may not be able to take a screen shot or capture the screen.



Keywords: Screenshot

Recent changes:
v1.1.85
Added new features:
- Now double tab/pinch to zoom the screenshot
- 13 different colour themes to choose from.
- Reduced application size to 2.7 MB
- Bug and crash fixes.

Please keep on reporting bugs and we promise we will keep on fixing them.

v1.1.83
Fixed following issues:
- Drawings over screenshot not getting saved.
- Refresh not working for multiple images.
- Not able to drop widget on home screen.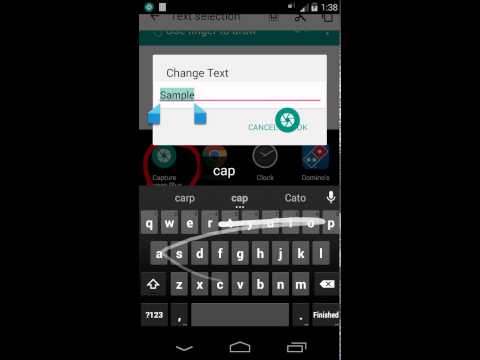 Write the first review for this app!