CEPTETEB
CEPTETEB yenilendi!

*TEB'den Cebe Para gönder fonksiyonuyla TEB müşterisi olmasa bile istediğiniz kişiye
7/24 ücretsiz olarak para gönderebilirsiniz.

Üstelik Dünya'da ilk defa ATM'den QR kod ile kartsız para çekme özelliği CEPTETEB'de.

Yenilenen CEBTETEB ile bankacılık işlemlerinizi her an, her yerden, hızlı, pratik ve güvenli bir şekilde ücretsiz gerçekleştirebilirsiniz.

Henüz TEB ile tanışmadıysanız bile Piyasa Bilgilerli menüsü ile euro, dolar kurları gibi piyasa bilgilerine erişebilir; hesaplama aracları ile kredi, mevduat getirisi gibi günlük finansal hesaplamalarınızı kolayca yapabilirsiniz.

CEPTETEB'den yapabileceğiniz işlemler:

• Piyasa Bilgisi Gözlem
• ATM/Şube Bilgisi Gözlem
• Varlık/Borç Bilgisi Gözlem
• Hesap Bilgisi Gözlem
• Para Transferleri
• Kredi Kartı İşlemleri
• Fatura Ödeme İşlemleri
• Cebe TL Yükleme İşlemleri
• Yatırım İşlemleri (Altın, Döviz, Fon, Vadeli Hesap açılış)
• Kredi İşlemleri
• QRCüzdan ile Kartsız Para Çekme ve Ödeme Yapma


CEPTETEB renewed!

With CEPTETEB you take the advantage of making your banking transactions from everywhere in a fast, easy and secure way. All you need to do is visit teb.com.tr, enter your user ID, PIN and One Time Password. First time in the world cardless cash withdrawals from ATM via QR Code.

Transactions which you can make via CEPTETEB:

• View Market Information
• View ATM/Branch Information
• View Assets and Debts Information
• View Account Information
• Money Transfers
• Credit Card Transactions
• Bill Payments
• Mobile Top Up
• Credit Card Transactions
• Investment Transactions
• Consumer Loans
• e-payment and Cardless Cash withdrawals form ATM via QRWallet

Recent changes:
- Easy login @CEPTETEB! Now you can login to CEPTETEB only with your user code and password.

- Pay in intallments and deferral functions are added to credit card transactions.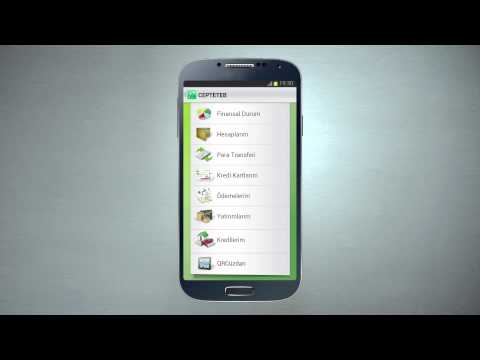 Write the first review for this app!