Colorful Shapes Lite
Colorful Shapes is an excellent puzzle game produced by CoolCode Studio. It's essentially different from the other traditional puzzle game. The game rules derive from Colour Code which is a famous entity toy produced by SmartGames. Then we adapt it to a more interestng mobile game according to the features of mobile devices. Now as long as you have a mobile phone or pad, you can play it anywhere, anytime. It's a fascinating game, you could play all day!

Everyone can play this game, not only children. It is not only to develop children's intelligence, but also increase the interest in life. You can play it with your family to compare who is more intelligent.

The game has 40 challenges in lite version (no ads), 80 chanllenges in free version (has banner ads), and 100 chanllenges in full version. we will add more chanllenges which are not include in the entity toy in the future update. The challenges' order in this game is also different from the entity toy. You should clear every stage one by one when you first play, then you can choose the unlock stages freely. 20 stages form a level, the difficulty of every stage increases gradually in a level, and the difficulty of every level also increases gradually.

There are 18 coloured shapes you can choose, you need move the specified number of shapes to the right puzzle operating area, then rotate and stack them up one by one. When you composition matches the challenge within the stipulated time limit, you've cracked it! Some challenges have multiple solutions. If you have confidence, find them all, please!

Wish you to have fun. Enjoy it!

Recent changes:
Update the credits.
Optimized touch operation.
Fixed crash when click the logo on topright screen on a few android phone.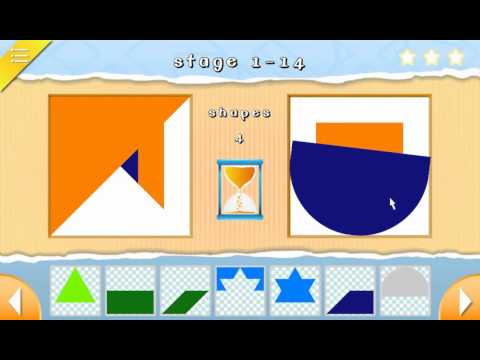 Write the first review for this app!
No comments in the Android market yet