Indian Rail Info
All purpose app for Indian Railways (Phone and Tablet).
Want to know when you can get confirm Indian rail tickets for all the trains between two stations?
Want to know running status of train?
Want to know PNR status only when it changes state?
Want to save and/or share E-Ticket from IRCTC in mobile to show that you care for mother earth by not taking printout?
Want to know PNR status from your IRCTC account?
Want to cancel E-ticket from your IRCTC account?
Want to know train numbers by just typing few characters of train?
Want to get and save PNR status?
Want to Book tickets via SMS (Pay via Zipcash)?

If any of these question's answer is YES then this app is for you.

Other apps presents the data as it is, but we process the data to present most useful information.

This app works best with WiFi. It works on tablet also.

Go ahead and try out.

Let us know the other features you would like to have.

If you find any issue, please mail us or write in comment so that we can fix it, low rating without comment will not help anybody.

For tutorial and further information on functioning of this application,please refer below given blog:

http://confirmrailticketapp.blogspot.in/

Request to users: Please help us to improve this app by knowing us if any station is not found or wrong station code or any feature is not working etc..

Keyword: Availability, Indian Rail, Ticket available, Confirm ticket, Rail, Indian railway, PNR, Train running status, , Book Ticket, IRCTC, Confirm Seat Availability, PNR status, SMS booking, ticket cancel

Recent changes:
Version 1.34 Changes:
Fix for Train running status / live train status.
Please update.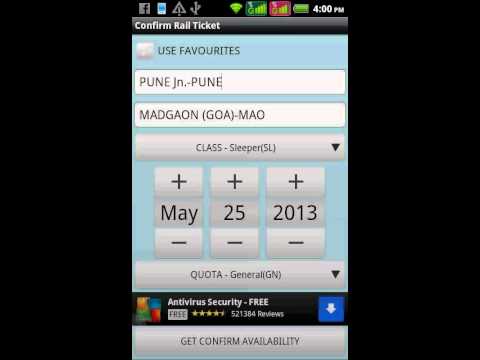 Write the first review for this app!