CSI: Hidden Crimes
Join millions of fellow investigators & solve gruesome crimes in Las Vegas!

• PLAYER REVIEWS
5/5 "Addicting and fun!!"
5/5 "Best hidden objects game I've played"
5/5 "If you like CSI you'll love this app"

• FREE TO PLAY HIDDEN OBJECT GAME •
Investigate stunning crime scenes to find evidence, analyze clues & interrogate your suspects!
Exercise your brain to find more objects faster & feel sharper with every new case.
Logic & observation will be your key talents!

• TEAM UP & NEVER MISS AN INVESTIGATION •
Enjoy new episodes regularly available on tablets, smartphones & Facebook.
Get help from friends!
But will you let them beat your score?

• BE A TRUE CSI •
Earn achievements, rank up as a CSI & earn your avatar's ultimate outfit!
Investigate cases written by CSI: CRIME SCENE INVESTIGATION writers!
Feel the thrill of unraveling game-changing situations & putting murderers behind bars!

About the franchise:
"CSI: Hidden Crimes" is based on "CSI: Crime Scene Investigation" which is a three time winner of the Best Television Drama Series awarded by the Festival de Television de Monte-Carlo, and was named the most watched show in the world for the 5th time in 2012.

Game available in: English, French, Italian, German, Spanish, Brazilian Portuguese, Russian, Korean & Chinese.

Like the game http://facebook.com/CSIHiddenCrimes
Follow us on Twitter @CSIHiddenCrimes

And join your community!
Facebook http://facebook.com/UbisoftMobileGames
Twitter http://twitter.com/ubisoftmobile
Youtube http://youtube.com/user/Ubisoft

Recent changes:
This update is dedicated to all our lovely mom investigators out there!
Here is a Special "MOTHER'S DAY" episode, as well as all the team's best wishes on this special day!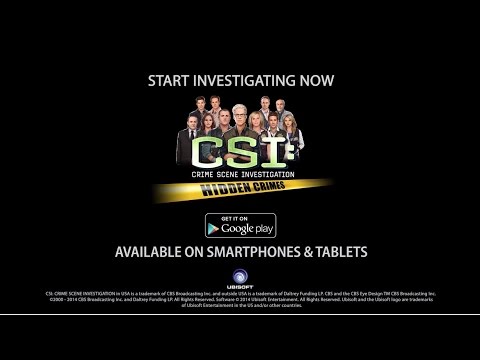 Write the first review for this app!