Did you develop this app? Access more services »
Cute handwirte notes widget
"Cute handwirte notes widget" is a app that can stick notes on a Home screen.
It is a free app.

You can select design of background and
color and size of pen and also color of masking tape by liking.

And furthermore, "Deco pen" , "Korokoro" and Stamp.

Please use it to take notes or something.

You can add several widgets on Home scree.
And also if this app starts normally ,you can simply take notes without using widget.

●Functions

・freehand(pen、neon、deco、korokoro、stamp)
・input text
・Change color and size of text.
・Design of background and masking tape.
・Send:you can send your notes with mail and twitter etc.
・Alpha:you can set alpha of widget.

●Size of widget

・1x1
・2x2
・3x3

●The number of widgets

You can add several widgets on Home scree.

●How to add widget on Home screen

When you long press Home Screen, you can show dialog "Add Home Screen".
And then you select "Widget".

1.Add a widget,you can show Setting page.
2.If you've taken notes, touch "Done" button.
3.A Notes is shown on a Home screen.

●How to edit widget

If you touch a widget , show edit page.


●How to delete widget
If you long press widget on Home screen ,show Trash box under part and drag widget there.

Recent changes:
This app is internationalized.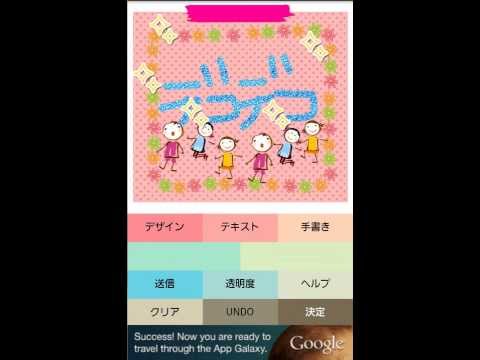 Write the first review for this app!