Anti Spy Free | D-Vasive
Stop apps from spying on you! Alerts when your Camera, Mic, Bluetooth and WiFi are activated.



The 1st Antispy App that gives you complete control! In this day and age privacy is a big concern. There are many invasive apps out there that discretely collect your personal information as well as track your location, record your conversations and even video record you.




D-Vasive Anti Spy is the 1st Antispy App that will help protect your privacy from these invasive apps by alerting you if an application is trying to spy on you, using your phone's Camera, Microphone, Bluetooth or WiFi connections. D-Vasive Anti Spy also lists running and installed apps that have access to tracking your location.
And even better, it works.





D-Vasive Anti Spy is not your typical Anti-Spyware. The typical anti-spyware relies on a database of known definitions and then scans every single file on your phone to compare with. This does not offer real protection as there are viruses and spyware being created everyday. So, a recently made virus or spyware will be unknown to the database, bypassing your typical anti-spyware software and able to access your system. D-Vasive Anti Spy offers a layer of protection that is in your control and is very reliable. D-Vasive Anti Spy operates in a unique way, allowing you complete control in managing your mobile devices internal hardware. So that way, when a potential malicious app tries to open your Camera, Mic, Bluetooth or WiFi and spy on you, D-Vasive Anti Spy lets you know, and lets you completely lock them down.


COMPLETE WALKTHROUGH:http://youtu.be/WAkQyh4QnXM



D-VASIVE FREE VERSION
Here is what D-Vasive Anti Spy Free will do to secure your privacy:
• Detect when an app starts your Camera
• Detect when an app starts your Microphone
• Detect when Bluetooth is activated
• Detect when WiFi is activated
• List which apps are tracking your location
• You can change alert options
• Set desired interval between checks





D-VASIVE PRO VERSION
D-Vasive Anti Spy Pro version offers additional features to completely secure your privacy:
• Secure Camera
• Secure Microphone
• Secure Bluetooth
• Secure WiFi
• Pause detection alerts
• Increased amount of logs
• Precise dial control
• Silent alert mode





Once you run D-Vasive Anti Spy on your device it is already working and protecting your privacy. You can then customize which alerts you want to receive and set how often D-Vasive Anti Spy should check to see if your internal hardware is in use. When you exit or close D-Vasive Anti Spy you are still protected as it will be working in the background. For more information check out the FAQ on our website: http://dvasive.com



RATED 4.5 ★★★★☆ Android Headlines http://www.androidheadlines.com/2014/08/sponsored-app-review-d-vasive-anti-spy-pro.html


Stay up to date with news on the latest features and updates

•Facebook: https://www.facebook.com/profile.php?id=100006070997502
•Twitter:https://twitter.com/DVasive





WARNING! This app is made for intelligent people. If you lack the ability and initiative to read, watch a video, or research how something works before jumping to conclusions and posting a negative review, then this app is not for you! Please, find a Kardashian App to occupy your time, as it is more accommodating toward your needs.

Recent changes:
Changed default timer interval to 5 seconds for camera and mic checks.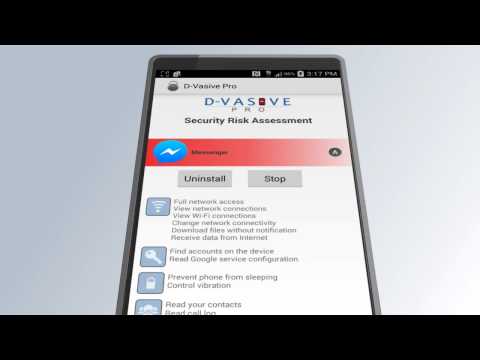 Write the first review for this app!