Defenders
Meet the sensational Tower Defense Game Prime World: Defenders on Android!

"It is truly one of the most beautiful TD titles to ever hit Android" - AndroidHeadlines

"The graphics are fantastic and the few changes in an established formula makes for a great little game" - tech-tongue.com

"Getting strong towers and magic and using them intelligently is a lot of fun, especially since there's no arbitrary energy to limit how much you can play" - TechnologyTell.com

"Go check it out, defenders" - Droid-Life.com

New Year is coming to Prime World: Defenders! Explore the winter Primezone with the special New Year interface — complete with snowy spruces and icicles! Battle various monsters with magic and towers... lots of towers! Dig deep into the the Primezone and uncover it's secrets!

Enter the Prime's World Universe and destroy countless enemies with towers and magic. Make your own unique cards collection and fuse your towers to get them even more powerful! Enhance your hero, your spells and your skills, be strategic and don't forget to try Heroic Mode to become the greatest Defender.

Join us on https://www.facebook.com/PrimeWorldDefenders to learn more.

KEY FEATURES:

● Stunning 3D-graphics with amazing effects truly best in their genre;
● Tower defense gameplay with collectible card game elements;
● Over 26 towers with up to 25 levels of upgrades and 13 kinds of spells;
● Share your progress via Facebook and make your friends jealous.

DON'T FORGET ABOUT:

● 36 types of violent monsters;
● Mighty bosses with unique abilities;
● Captivating storyline with 23 missions, extra boss levels, and randomly generated missions;
● Special placement on the map and anomalies to boost your powerful attacks;
● Different strategy for every map;
● Unpredictable ways of defense.

EXCLUSIVE NVIDIA TEGRA 4 FEATURES:

● Improved spell particle effects;
● Glow/Bloom post effect;
● Soft character shadows;
● Exclusive on start in game bonus for Tegra 3 & 4 users;
● Support of 1080p video mode.

And even more amazing features! Try it right now and claim the Prime.

Facebook: https://www.facebook.com/PrimeWorldDefenders

Recent changes:
- Special New Year theme is already in the game! Have some jolly good battles!
- Minor bugfixes and performance improvements.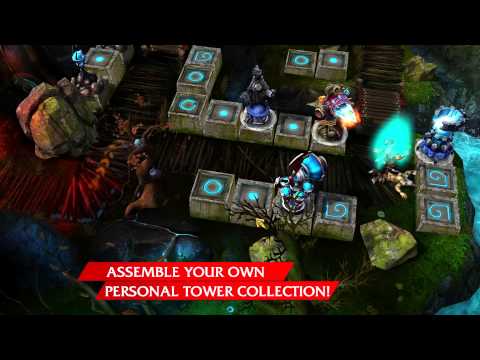 Write the first review for this app!