Diaro - diary, journal, notes
Diaro is designed to record activities, experiences, thoughts and ideas throughout a day and sync data across all your devices. It lets you organize your created diary / journal entries or notes from the past in the easiest way.
Powerful search helps to find diary entries by any keyword in the title or text and filter results by date, folder or tags.

★ Main Features ★
- User friendly interface adapted for phones and tablets;
- Multilingual UI now in 30+ languages;
- Security Code allows to keep your entries private;
- Organize diary / journal entries using folders and tags;
- Swiping between entries;
- Attach or capture unlimited amount of photos;
- Change interface color;
- Powerful search and filtering;
- Backup & Restore your data, store it in Dropbox;
- Share entries and pictures to email, SMS, Twitter, etc.;
- Set the first day of week in calendar;
- Use Notification Bar icon to create new entry faster;
- Automatic location detection for new entries;
- Adjust text size;
- Choose between 12AM/PM and 24 hours time format;
- Multi window mode (if supported by device);

★ Diaro PRO Features ★
- Sync data across all your devices and Diaro Online on your Mac or PC using Dropbox;
- Ads free;

★ Diaro Online ★
You can access your Diaro entries online on any device using web browser:
http://www.diaroapp.com

Diaro Online features:
- Export your entries to PDF file.
- Import data from Evernote, Catch Notes, Day One apps;

★ Diaro app reviews ★
easyjournaling.com review: http://goo.gl/xdgbl
androidrundown.com review: http://goo.gl/pB73a
makeuseof.com review: http://goo.gl/nAabt
ohyonghao.com review: http://goo.gl/U0ITG

★ Learn More ★
- Facebook: http://facebook.com/diaroapp

- Twitter: http://twitter.com/diaroapp
- Required permissions: http://www.diaroapp.com/en/help-support/required-permissions
- F.A.Q.: http://www.diaroapp.com/en/faq

Recent changes:
Please backup your data regularly to avoid data loss.

3.7.7
- Small fixes

3.7.6
- Added map for setting location;
- Entries can be filtered by location;
- Added tags and locations count;
- Changed backup data file format and encryption to AES 256-bit;
- Bug fixes.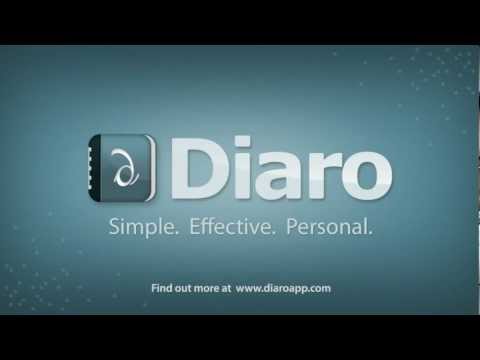 Write the first review for this app!