Doodlr - Free Greeting Cards!
Doodlr is a Greeting Cards app that comes preloaded with lots of beautiful template cards that you can customize - or you can create your own unique cards from scratch using the built in drawing app - adding your own photos and graphics. *** 100% FREE! NO ADS!! ***

Make unique birthday eCards, christmas eCards, party invitations, happy new year 2012 eCards, Easter cards, ePostcards and pretty much everything else in-between!

You can share your eCards with your friends via text message, email, Facebook or Twitter. Almost any phone ( not just Android ) can receive your card if you send it via text.

You can add speech bubbles, thought bubbles and a wide range of fun disguises to your photos. Have a play around, see the screenshots and the video to see it in action.

• Doodlr is Genuinely, for Free - NO ads, NO charges, NO watermarks!

• This drawing app / greeting cards creator is great for kids - my daughter loves using it.

• Lots of artwork and no pressure to use the provided templates, make great unique greeting cards from scratch.

• The application can run from the SD card too. Considering the amount of artwork, it doesn't take up too much space (2.7mb).

• Zoom in on your pictures, artwork provided is vectors so your greeting cards will look great at any size.

• This version is not optimised for tablets (yet), but please let me know how it runs, so I can make changes or let others know.

Please rate highly if you want me to improve this app. If you have a problem on your phone or tablet, email me and let me know what model you are using, and I can fix the problem for you.

I have successfully tested on :

Samsung Galaxy s2
Samsung Galaxy Mini
Samsung Galaxy S
Samsung Galaxy Tab
Samsung Galaxy Ace
Motorola Droid X
HTC Desire
HTC Desire HD
HTC Wildfire
HTC Incredible 2
HTC Evo 4G
HTC Sensation 4G
LG Optimus One

Doesn't run on :
Sony Xperia X8

Recent changes:
Some new tweaks in the interface to make template cards much easier to send.
Added exit button
Fixed back button navigation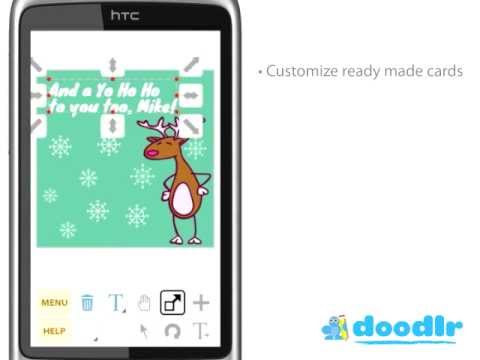 Write the first review for this app!