DRIVE - Transmission Gauge
Drive is an application that allows users to read the Transmission Temperature in real-time of their vehicle utilizing a wireless adapter. It also displays coolant temp and intake air temperature as well as any Check Engine trouble codes with descriptions and the ability to erase those codes.

Features

• Real-time Transmission Temperature Meter
• Additional Coolant and Intake Air Temperature shown on Screen
• Alert set point for Transmission Temperature Overheat
• Analog and Digital readout for Transmission Temperature
• Transmission Temperature Digital Color Selection
• Check Engine code readout and description
• Check Engine Trouble Code Erase
• Use in Portrait or Landscape Orientation
• Celsius Display Option

* Important * - The application requires an adapter called the Elm327 OBDII Bluetooth adapter easily found on eBay and other sites for connecting to the vehicles OBDII diagnostic plug found inside the vehicle. Other adapters will not work. The OBDII plug in the vehicle will be within 3 feet of the steering wheel.

The application requires Android 2.1 or higher on the device in order to use the Bluetooth functionality.

Screen resolutions supported:
240x400, 320x480, 480x854

Currently these vehicles are supported:
Ford/Lincoln/Mercury (1996 – Current)
GM/Chevrolet (1996 – Current)
Chrysler/Dodge/Jeep (2007 – Current)
Toyota Trucks (2009 - Current)

*more models in the future

** Note on Elm327 OBDII Adapter **
Try to avoid these versions (NOT supported by ElmElectronics):
v1.4a v1.5 v1.5a

Recent changes:
Version 1.18 -- June 19, 2013 -- Add layout for 720x1200 and 540x960 display.
Version 1.17 -- June 5, 2012 -- Add layout for 240x320 display.
Version 1.16 -- May 8, 2012 -- Add Menu option to display Gauge and Values in Celsius degrees.
Version 1.15 -- May 2, 2012 -- Change to Jeep Wrangler Transmission selection to distinguish model years 2007-2011 and new model year 2012. Fixed issue with Jeep Wrangler 2011 connection.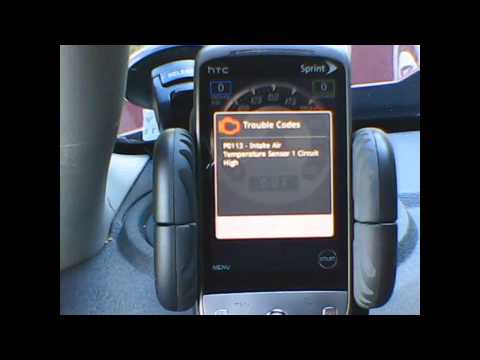 Write the first review for this app!