EAS Simulator Plus
Ever wanted to simulate a natural disaster, a nuclear war or a zombie apocalypse? Now you can use your Android device to play realistic-looking Emergency Alert System (formerly known as Emergency Broadcast System) alerts.

EAS SIMULATOR PLUS FEATURES:
• No ads.
• Plays realistic EAS alerts.
• Schedule an alert to play at a given time (even if the device is locked). Ideal for drills, pranks or role-playing.
• Comes loaded with a set of pre-defined alerts featuring real-life natural disasters (flash flood in New Jersey, tornado in Oklahoma...) and also some thrilling fictional emergency scenarios including a North Korean nuclear attack, an unidentified nuclear strike in New York, zombie virus pandemics and others inspired by famous video games.
• You can preview 30 seconds of your custom-made messages. Get EAS Simulator Pro for the complete EAS message creation features (play the whole custom alert and save it).

THE ALERTS:
• Backgrounds similar to the ones used on TV alerts (black, color bars, intermission screens, etc.).
• Static or blinking texts.
• Scrolling texts (news-ticker like).
• SAME headers (the beeping and buzzing sounds heard in the beginning of the alerts).
• Attention signal (single/combined frequency and tornado siren).
• Voice message generated by your device's Text to Speech engine (TTS).
• End of Message (EOM) sound.

NOTES:
• It's important that you're satisfied with your purchase, so before buying EAS Simulator Plus please consider trying the Free version first.
• EAS Simulator Plus is for people who only want to unlock the app's extra Pre-Defined alerts. It doesn't let you save or schedule custom alerts. It lets you try the built in EAS creator and preview 15 seconds of your custom messages, but you need EAS Simulator Pro to save and fully play your alerts.

KNOWN ISSUES:
• Users with U.S. models of Samsung Galaxy S4 devices running Android 4.2.2 reported that the Custom Attention Signal feature may produce some clicking noises instead of the actual tone. This is a firmware-related problem with tone generation which unfortunately has to be fixed by Samsung with an update. Affected devices can use the Default Attention Signals (fixed frequencies and duration) without any problems though.

Recent changes:
v1.2.7:

- Bug fixes and optimizations;

- Added the Amber Alert sound as an Attention Signal;

- EAS Simulator Plus users can now preview up to 30 seconds in the EAS Creator. For the full EAS creating features, check EAS Simulator Pro.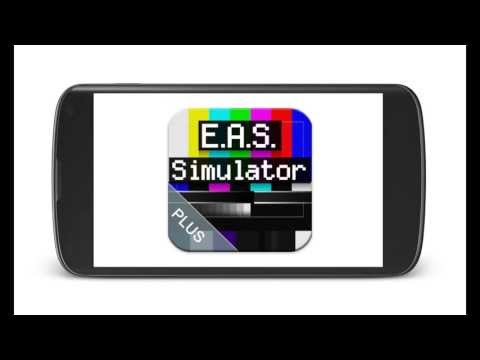 Write the first review for this app!