EWSJ : Exchange EWS SDK
=====================
This is a developers demo, its not intended for users
=====================
This is an Android port of EWSJ (from www.javaexchangeconnector.com)
EWSJ is the first Exchange EWS Java API, and probably one of the bests.

Using this SDK you will be able to build Android applications that connects and manipulate Exchange contacts, email, calendar, tasks, this are the basic operations,
but also advanced operations like folder manipulation, run PowerShell commands, move item, set custom properties, delete/add attachment to contact/event/task, create inline email attachment, are supported, and much more (for full list check our site), all this are possible with a few lines of Java code.


This demo app is using EWSJ port for Android, to retrieve contacts from Exchange.

Full ADT source and installation information is available here:
https://docs.google.com/document/d/1iqY_tdyJFbVZ2UR0_rGznSvbamDTdm6gNoltfQZghrQ/edit?usp=sharing


For more information, user guide, and examples:
www.javaexchangeconnector.com

* Note that although this port is free, and its source is available, EWSJ is a commercial library.

Recent changes:
3.10
------
* Upgraded to ewsj 2.13_06
* EWS Notifications support (see related example).
* New trial license.

3.0.0
-----
* Upgraded to ewsj 2.13_01
* Some small UI fixes.

2.0.0
-----
* Upgraded to ewsj 2.13_00
* office 365 host changed to: outlook.office365.com

1.0.9
-----
* Added send email with attachments example.
* More id related issues when parsing the id and changeKey (fixed Attachment mechanism):
* Upgraded to EWSJ 1.20_51t12
* new Activation license (and new LM)
* Small UI fixes.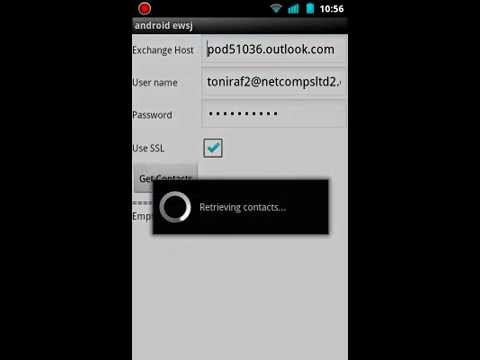 Write the first review for this app!