Festival Checklist (NL)
* Dutch language NL.
* What gear to take with you during a music festival weekend?
* Make your own personalized festival checklist in 60 seconds.
* Add your own specific items to the personalized festival checklist.
* A good checklist is the basis for a perfect festival weekend!
* Print and email your checklist.

Your personalized festival checklist. Do you need some help packing? A good packing list is the basis for a great festival weekend.

This handy gepersonaliseerde festival checklist is a nice tool to prepare your weekend and to make your weekend a great success.

You can start with a high qualiy standard checklist with items that are nicely categorized. Food and Beverages. Clothing. Climate. Multimedia. Camping Items. And others.

Then you only those items that are relevant for you. And finally you have composed your personalized festival checklist.

This service sends your checklist automatically to your mailbox. This email only contains the items you have selected. You can also send your checklist to your friends and family with whom you go to the festival.

Recent changes:
* Updates for the festival season 2015.
* Use the brand new festival calendar feature in the app.
* Performance improvements.
* Support for Android V5.1 Lollipop.
* The color palette has been freshened up.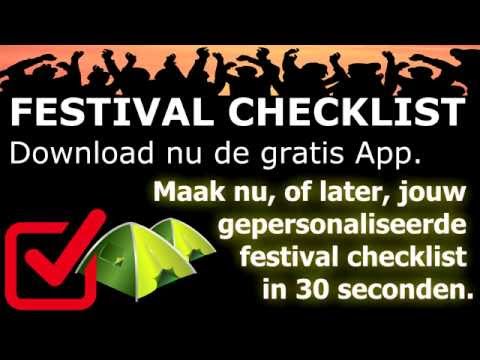 No comments in the Android market yet