Flash Light Alerts
Flash Light Alerts is a new application which will use your camera flash to make light blinking signals while device is ringing or new notification message is received.

Flash Alerts controls the flash for calls and other notifications. This way you can be notified by your flash for every notification.

Flash Light Alerts gives iPhone's LED flash notification feature for Android phones.

Features:

• There are three flash drivers that works with almost every android devices Prefer "Standard" over
"Alternative" and "Alternative" over "Alternative 2". (For Samsung devices please try Alternative drivers.)
• Sleeping period.
• Operation modes (flash when on silent, vibration or normal mode).
• Notification flash modes (Time based or Repetitive).
• Flash notification for more instant messaging apps, like Viber, Facebook Messenger, Whatsapp, BBM
and many more.
• Flash Alert only when phone is locked option
• Disable flash on call with volume buttons
• If your smartphone's battery is low there is a option to disable it automatically.

In order to enable the flash notification on other apps you need to enable the Accessibility Service from Settings->Accessibility-> Flash Light Alerts Notification Service or from Notification Flash Preferences.

This app is based on CallerFlashlight, and licensed under the GPLv3. http://www.gnu.org/licenses/gpl.html, https://github.com/thatapps/flashneo .

Recent changes:
Version 2.5
Added support for new apps like Chatimity, LOVOO, Moco, Mico, Badoo, Skout, Mamba, Wattpad, Kate Mobile

Bugs Fixed

If you want any other Apps to work with Flash Notifications, please email us we will add it.
Samsung devices users please use alternative options in settings.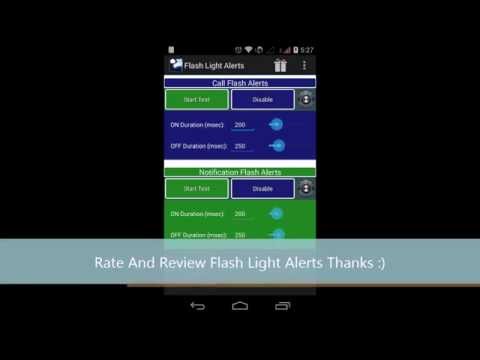 Write the first review for this app!