Follow the Line - Line Runner
Fun, elegant and simple finger-runner. Just keep your finger on the screen, stay inside the line and walk through the randomly generated obstacle course. Don't step into the traps. Easy to play, but SO difficult to master!

Includes:
• Randomly generated levels
• Crisp graphics on any screen size
• Cool soundtrack
• Smooth gameplay
• Moving obstacles and traps
• Amazing effects
• Adds a total distance to keep the game challenging
• Fun line rider

What are you waiting for? Try and beat the highscore!

Recent changes:
Added a settings menu to enable:
• Resetting of the highscores and total distance
• Turning music on or off
• Rating of the game (please do if you like the game)

• 1.6.1 Fixed clipping of scores higher than 999 (Thanks to H. Klawitter)
• 1.6.2 Decreased file size
Performance updates
• 1.7.0 Fixed an issue with the game using too much of the battery if paused.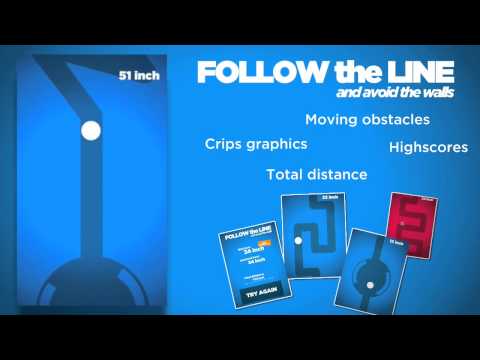 Write the first review for this app!