Frogman2
Swim with the fishies and avoid the sharks! If you can. It's not very easy so you might want to download some other easier game. Like Tic-Tac-Toe.

Don't worry, just like the frogmen in WW2, you'll be armed and ready for combat. But you won't have unlimited spears, and you'll probably get bit anyway. Be careful of the other critters in the sea. They won't bite you, but they might cause you to float into one of the sharks. That's not a very good idea.

The $0.99 paid version allows you to play without the Ad banners.

This game has both Achievements and Leaderboards (including best 3-in-a-row Leaderboard).

Who knows, you might make it from a tadpole to become King of the Frogs. Or, maybe if you're really really good, to become The Frog Emperor. But there can only be one of those.

Recent changes:
I made the Frogman a little bigger, but give you 5 extra spears. My son said I needed to make the backgrounds move instead of standing still. He was right, so now the backgrounds move. Using high resolution backgrounds of 9 different ocean settings instead of the old cartoon background. The fish are now real fish (well, images) instead of cartoons.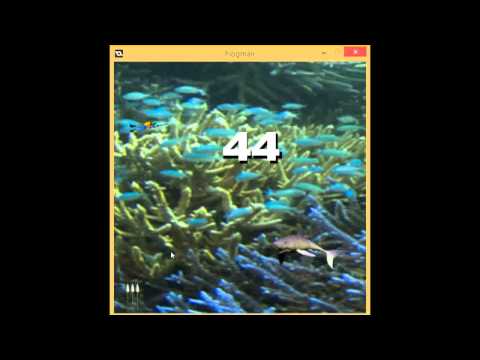 Write the first review for this app!