Fun Photo Draw Free


Photo Doodle/ draw/ write on canvas with eye catching brushes like neon effect, glowing brush, 3D lines, customize clip arts with colors, give text exciting font color, rotation. Select a canvas and import as many photo as you want and give each photo a unique shape - make the best collage of your photos with frames. Lots of backgrounds are given to choose from. Off course you can choose your own photo as background image.

Photo Frames & Photo Collage

Choose Any photo in your gallery
Lot of shapes are given to choose from to give your photo a shape like square, triangular, love sign, star like and more
Now choose frame to highlight each photo you want to add in your background. Three options are available, no frame, white & black border frame
All you need is tap anywhere in canvas or background to place your photo frame
Before Applying you can change the photo frame size angle
And the fun part is you can add the same photo frame without choosing from gallery - just tap again.
You can choose as many photos with frame as you want to make a perfect photo frame.

Clip arts shapes


Fun Photo Draw comes with lots of clip-arts like rectangle, like , dislike, smiley and lot more.
Unique and fun part of these clip arts are they can take any color you want to give.
Before applying you can choose color from pop-up dialog's color button.
Before Applying you can change the photo frame size and angle
Once you chosen clip art shape you can repeat it with a Tap

Adding Text


App comes with inserting text with advanced options.
Various fonts are present in the app in the bottom bar
Before applying you can choose color from pop-up dialog's color button.
Font size and text direction can be customized.
Adding next line is as simple as tapping the canvas or background again

Drawing Fun


Lot of experiments has been done to get a perfect line
I added simple line with color, opacity option - which can be found on the bottom bar
True glow & neon line effect is more beautiful when you choose right background like black & white background.
Random holo circles & random holo random color circle is coolest
Dynamic gradient is one of the most innovative way to draw something on your photo
There are more options in lines - just explore it.

Choosing Right Background


Background button is on the canvas and floating
Off course you can choose any photo you want from your gallery as a background without any change.
Lots of backgrounds are given in the app to choose from.

There are more options in lines - just explore it.




Saving to SD cards and sharing with friends from the app itself. So unleash your creativity with this simple fun app. Moving to SD card is supported. Unlimited Undo and clear button is only for you. If you face any issue please write to me. Your comment will make me work in the right direction. Free version app comes with almost all features and advertisements. If you like this app please consider the ad-free version.



For New updates or new apps please follow & like https://www.facebook.com/debandroidapps">Facebook page.

Recent changes:
version 4

Images can adopt any shape like circle, square, love sign, drop or even star
Lot of background added for canvas
Redesigned app
Text font size increased
Lot more enhancement
Bug fix

Version 3.11:
->app size reduced
->icon fixed for holo circle type bruses.
Version 3.10:
-> All Shapes Redesigned for better output
-> New shapes added now total 60 for the paid version and 40 for the free version
-> Splash screen redesigned
-> Saving option fixed
-> Some bug fix.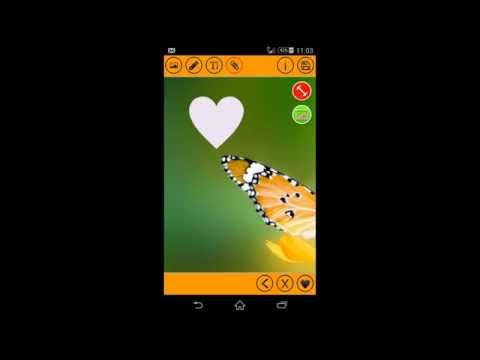 Write the first review for this app!