FunCall, Voice Changer in Call
Fool your friends by changing your voice and identity during a phone call.

The best and cheapest in call voice changer in the market!
Do you want to prank call your friends without the possibility to discover…?
Change your voice during a phone call from high and funny to deep and scary.

*** First call for free! ***
*** Want to get more gift calls?
1. Share and invite your friends.
2. Complete tasks: download applications, watch ads, etc.

The call cost is country dependent and written in the app.

How to use the app:
1. Enter the number you would like to call.
2. Select your friend country
3. Select the sound you desired.
4. After the call is answered by the other side change your voice in real time.

How to earn free FunCalls?
Complete tasks: download applications, watch ads, etc.
Share the app with your friend on facebook to receive gift calls.
Invite you friends with SMS from the app, any friend that you will bring will grant you a gift call.

Available sound to select from and change during call:
1. Helium balloon
2. High sound
3. Low sound
4. Scary sound
5. Regular sound

Limitations:
Caller phone number can't be restricted.
Internet connection is required.
Most countries are Supported but some numbers are not supported yet, if you encountered a problem with some number please update us with the number in the support button in the app

Recent changes:
2.1.1
Add more free ways to earn calls

2.1.0
Support Android 5.0 Lollipop

2.0.9
Significant improvements in design and user experience.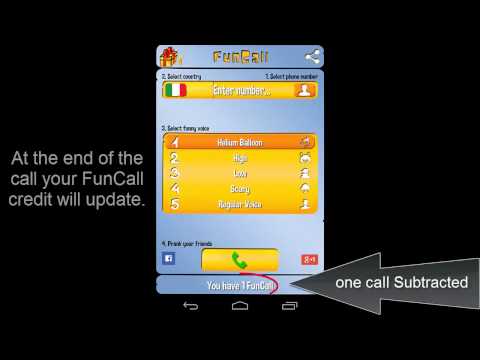 Write the first review for this app!