Galaxy Empire
Enjoy Galaxy Empire as it was meant to be played: exciting conquest-based strategy with absolutely zero ads. This is online MMO strategy at its best - compete with players from around the world and establish your empire online. Get started today for free!

· AN ENTIRE WORLD TO EXPLORE & CONQUER

In the near distant future, space exploration has evolved into a much more sophisticated nature as planets are colonized by humans in a fierce battle for resources and influence. Immerse yourself in intergalactic diplomacy as you manage your bases and natural resources while waging war against powerful enemies. Take full control of your territories as you upgrade bases and allocate production levels of mines. Then expand your horizons as you create alliances with friends and defend your stake in space against enemies. This most complete mobile science fiction arcade action game will have you hooked for hours on end!

· ESTABLISH AND MANAGE MULTIPLE COLONIES

· Populate your planets with buildings and mines to collect natural resources and develop new technologies

· EXPLORE NEW GALAXIES

· Travel far and wide with ships that are created on your planet to harvest resources and conquer new lands

· HIRE OFFICERS

· Hire commanders and officers to lead your forces to new worlds and beyond

· FORM ALLIANCES AND MAKE FRIENDS

· Join or create alliances with other players and conquer new systems

· GLOBAL AND ALLIANCE LIVE CHAT SYSTEM

· Make friends and share tips through Galaxy Empire community

You can't beat the deep strategy that Galaxy Empire offers for free. Establish your empire today and join our online community of thousands!

MORE INFORMATION
Tap4Fun Online:http://www.tap4fun.com
Like Us on Facebook: http://www.facebook.com/tap4fun
Follow Us on Twitter: https://twitter.com/tap4fun

Recent changes:
Main updates:
Introducing new Annihilator Galactonite, which increases the max number of Annihilators you can have.

Other updates:
New Rule: The more Annihilators you have in battle, the more damage each explosion does.
New Rule: The Annihilator will only initiate a chain-reaction when the enemy has at least two of the following: Titanenergetic Frigate, Devourer Interceptor, Interceptor, or Behemoth.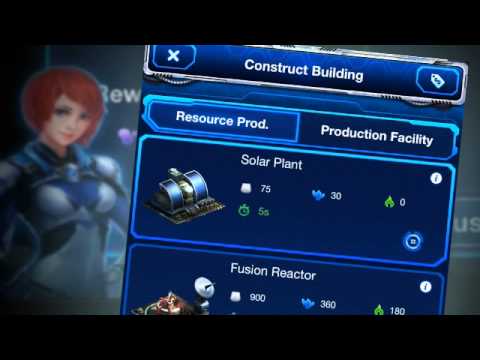 Write the first review for this app!