HAL-Home Automation @ Language
With an interaction style similar to Google Voice Search, you can control your house, where the requests would be similar to the following:

Please turn on the Office Light HAL
HAL unlock the Front Door Please
HAL run All Lights Off Thanks




This application requires the following:

A Vera Home Automation http://getvera.com/controllers>Controller from MiCasa Verde. It works with both the UI4, UI5, and UI6 platforms.

Configure your Vera Login credentials and you are ready to go ... There are a few other settings to help customize your experience.



In addition to talking you your House, you can assign touch gestures to commands. This is useful in noisy environments.

Many voice recognition applications have problems do to the quality of the recognized speech.
Hal improves reliability using 3 techniques:

Semantic Rules - Words in the proper order for a meaningful interpretation.
Fuzzy Logic - Matches words spelled or pronounced similarly.
Translation Dictionary - To Translate many of the words Google thinks you said into things meaningful for your Home Automation.



The application has support for Switches, Dimmers, Temperature, Humidity, Light, Security Sensors, Alarm Partitions, Locks, Thermostats, Virtual Switches, Multi-Switch, Window Coverings, Program Logic Plugins, and the Combination Switch plugin.


It has been designed for extensibility and localization and customization of the Semantic rules. These features will be made available in subsequent releases.

Recent changes:
Handle startup problems when Vera does not have any defined scenes.
Minor bug fix in confusion handling wild card requests:
i.e.
If you ask:
All Temperature Status ?

Bug fix if you have more than 1 Vera Defined.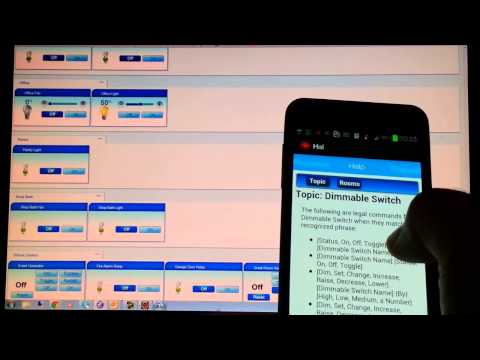 Write the first review for this app!