Halloween Pumpkin FREE
Scary Halloween Live Wallpaper with many customization options.
- select speed of animation (6 settings),
- pumkin image (5 IN FULL VERSION)
- scary 3d effect (7 possibilities)
- ads to support development ;)

Some interesting facts about jack-o-lanterns:
Development of artifacts and symbols associated with Halloween formed over time. Jack-o'-lanterns are traditionally carried by guisers on All Hallows' Eve in order to frighten evil spirits. In Ireland and Scotland, the turnip has traditionally been during Halloween, but immigrants to North America used the native pumpkin, which is both much softer and much larger – making it easier to carve than a turnip. Subsequently, the mass marketing of various size pumpkins in autumn, in both the corporate and local markets, has made pumpkins universally available for this purpose. The American tradition of carving pumpkins is recorded in 1837 and was originally associated with harvest time in general, not becoming specifically associated with Halloween until the mid-to-late 19th century.

TAG:
Wallpaper, Live wallpaper, 3d wallpaper, realtime rendering

Recent changes:
1.02
New Launcher
Fixed diffuse effect for Galaxy SI
Localized for Japan, Korea, Germany, France, Spain, Russia, Poland.

1. 0 Initial version.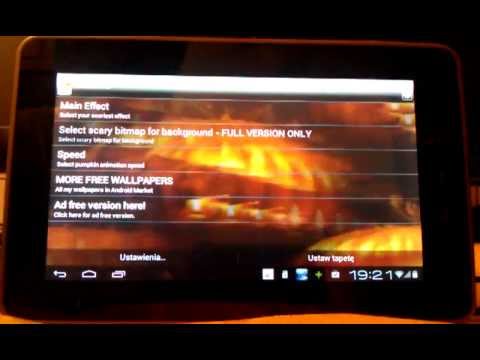 Write the first review for this app!