Hexavision for Ads and PR
This product is a product used as indoor and outdoor advertising media.
1. Hexavision: a cylindrical acrylic or PC into six wedge cover the behavior of the way through the puzzle in terms of three to six public relations and advertising images that represent products. Rhythmic puzzle to complete, depending on how it works will have a feeling. 360 ° in either direction can see all six images and advertising, Story - Board of type must be flattened. Internal wedge can be inserted in the life of the product, and through the interior lighting at night can be seen seamlessly.

2. Hexabooth: Hex Vision booth at the top by installing one of many in the media can take advantage of the complex. Upper hex vision for the purpose of publicity and advertising can be used, and the underlying purpose booth Take-out booths, help desk purposes, the police desk, the box office can be used for purposes such as:

3. Digital Hexavision: luxury of a design for LCD Pannel myeonmada 3 in a triangular frame is installed product. Hexa Vision Digatal of complex analog and LCD products. Public places or the airport terminal and is particularly suitable for utilization in the same place.

4. Opera (Roll Screen): several rolls up and down sequentially screen is a product that works. Rolls on the screen by attaching several hyeonmu membrane can be used.

5. 4-Face: Tri-vision product that resembles a square instead of triangular pillar is the pillar products using. Odd and even number of columns as the columns of the square pillar pillars coming out of the square, then rotate all the work and then repeat them back again.
Luxury Design with a customer's attention to the behavior ppaeatneunde no shortage. Installed on the wall you can see the effects of four ads, two-way public relations is also possible to install.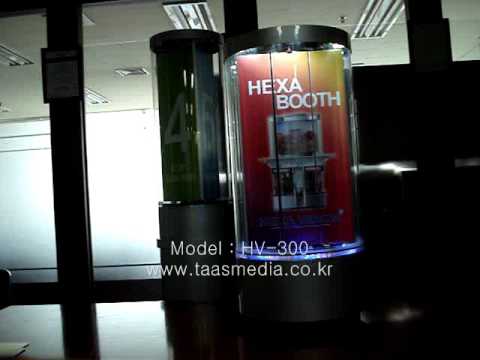 Write the first review for this app!
No comments in the Android market yet