Holy Interactive Rosary
This is no.1 app for rosary the Interactive Rosary Application.You can select Cross , beads small beads and background .
You can change beads cross and background at any screen .You also have an English and Spanish support and
You can change language to Spanish at any time from settings.You can double tap to enlarge the Rosary
and then select any bead .You will get the corresponding prayer associated with it .
You can change the mystery to any type you want by just swiping the the heading .
The joyful mysteries contemplate/meditate on the joyful moments before the passion of Christ.
The sorrowful does the same as you relive the passion.
The luminous as they take you through the important steps that led to all of gods children salvation.
And then the glorious mystery as it leads you through his triumph over the world and satin.

Recent changes:
audio support added for each prayer .when you maximize the pop up on zoomed view .
This version contains bug fixes for bigger screens and high resolution devices .
need support to add more device compatibility. If the app doesn't open up on your device
or you have any error please leave a comment .
This version has a better user interface .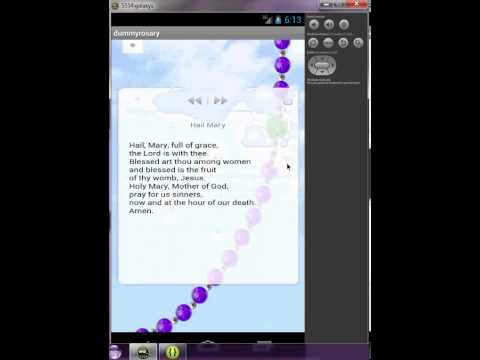 Write the first review for this app!