Insultos Gratuitos 3000
Are you fed up of being perfect?. Does everyone flatter you saying how wonderful you are?.
If your answers are YES, this is your application: The incredible "INSULTOS GRATUITOS 3000". And if your answers are NO, don´t worry, download the application and you'll have a good time.

The "Insultos Gratuitos 3000":
- It insults you. Just select your language (available in Spanish, English, German and French) and your sex (only if the language selected is Spanish).

- Use the insults the application gives to you, or create your own insults. Just write it and test how bad it sounds.

- The application has an available database where you can store your favorite insults. You can also delete the insults that you don´t like.
- Create a widget for quick access to the insult which so greatly need.
- Available in Spanish and English.

"Insultos Gratuitos 3000" is your application, download it NOW.

WARNING: "Insultos Gratuitos 3000" IS NOT A TRANSLATOR. It just read the writing on the box using the phonemes of the language selected. Try reading "stupid" in French, and you'll understand.
Pico TTS is needed to be instaled and selected.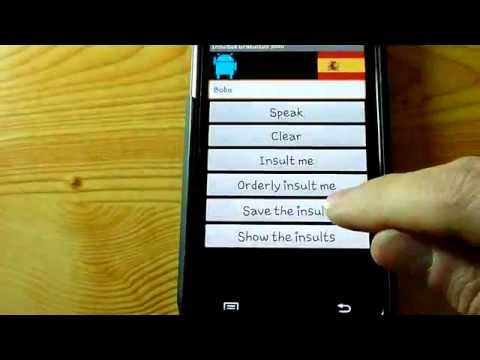 Write the first review for this app!