Kids Math
This is an educational math game for your kids and maybe for everyone. This is a good brain test and you can improve your math calculations speed.

The game is a unique one because this game has a very nice graphics designed for your kids. During each level You have to answer from 5 question to 10 math questions (addition, subtraction, multiplication, division, fractions, mixed operations, finding greatest and smallest numbers e.t.c).

This is a perfect math workout for your kids and a perfect challenge for you!

Recent changes:
V3.0.2
----------
1. Fixed bug for Hard Level (Question #2)
2. Fixed bug for Normal Level (Question #10)

V3.0.1
---------
1. Added Game Play Service (Leaderboard and Achievement) to challenge with your friends.
2. Added Share game button if you want your know friends know about this game.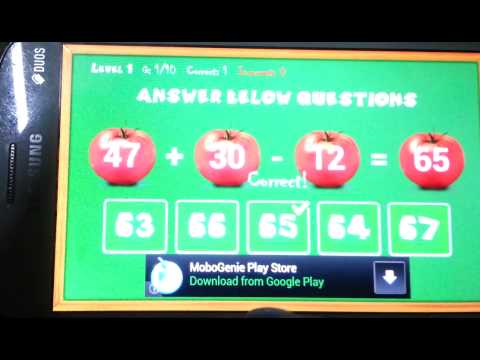 Write the first review for this app!