Kingston MobileLite
The MobileLite App(1) provides wireless portable storage and file sharing for Android phones and tablets with your MobileLite Wireless Reader. Wirelessly store and share your favorite photos, videos, music and files from your SD cards, microSD cards (with adapter), USB drives and external hard drives.(2) Stream content to three friends on their own devices simultaneously. MobileLite Wireless has the ability to stay connected to the Internet while accessing and sharing your content.(3) With MobileLite Wireless you can store more of what you need with the Android device you love.

Additional Features:
- Multitasking – run other Apps while using MobileLite features.
- Enhanced File Management - Music, Photos and Videos file sorting
- Easy Start-Up Instructions
- Move photos from device to cards or USB drives via MobileLite Reader
- Enhanced Music Player
- Playback controls (prev/play/next/shuffle/repeat)
- Album art (ID3) display
- Thumbnail and slideshow display
- Finger swipe capabilities
- Additional Network Setting - select Wi-Fi channel
- Local Storage - wirelessly transfer files to and from the MobileLite App and the MobileLite Wireless Reader.
- Email – email files up to 10MB
- Delete – delete files wirelessly
- Put the volume button back into the app.

(1) Requires use with Kingston MobileLite Wireless hardware.
(2) Requires hardware purchase separate from the MobileLite Wireless hardware.
(3) Requires service, 3G not supported.

Recent changes:
So:
- Various bug fixes
- Added support for MobileLite Wireless Gen 2

MobileLite Wireless Gen 2 App Features:
- Added an Auto Shutdown setting
- Added USB 3G Network Dongle setup
If you are still experiencing issues after this update, please contact Kingston's Technical Support: Kingston.com/support.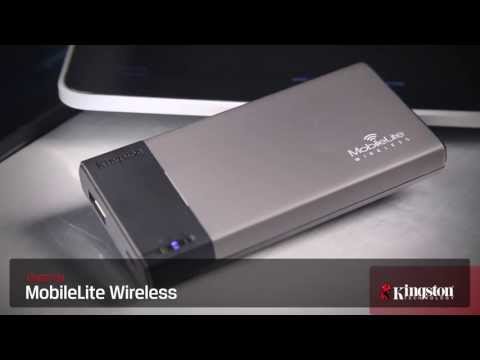 Write the first review for this app!