Emoji Keyboard - Emoticons(KK)
KK Emoji Keyboard is a free, colorful and smart Emoji Keyboard which can help you to fast input emoji, emoticons, smiley and text face conveniently everywhere.

Highlights:
- Quickly input Emoji in message,text,email,note,contact,sms
- Messaging emoji to other phone
- Clever emoji prediction to match emoji for your words
- Gesture Typing with dynamic floating preview
- More than 30 dictionaries for different language
- Next word suggestions and current word completions
- Auto Correction and word prediction
- ( ͡° ͜ʖ ͡°), (ʘ‿ʘ)
- Smart auto-capitalization first word of each sentence
- Resize layout as you wish
- Sliding input and Swipe input
- Copy,cut,paste and arrow key
- Standalone emoji keyboard mode
- Color,wallpaper and key press sound customization
- Kinds of Keyboard theme
- Top row number input
- Clipboard for multiple copy and paste
- Smart keyboard for emoji fast input

Support Language:
English
Afrikaans
Alphabet(QWERTY)
Arabic
Armenian(Armenia)
Belarusian
Bulgarian
Catalan
Croatian
Czech
Danish
Dutch
Esperanto
Estonian
Filipino
Finnish
French
French(Canada)
Georgian
German
Greek
Hebrew
Hindi
Hungarian
Icelandic
Indonesian
Italian
Khmer(Cambodia)
Kirghiz
Laos
Latvian
Lithuanian
Macedonian
Mala(Malaysia)
Norwegian
Persian
Polish
Portuguese(Brazil)
Portuguese(Portugal)
Romanian
Russian
Serbian
Slovak
Slovenian
Spanish
Spanish(US)
Swahili
Swedish
Thai
Thai
Turkish
Ukrainian
Vietnam
Zulu

Recent changes:
V2.1.2
- Lock and share feature for clipboart item
- Support English Dict for United Kingdom
- More than 10 new online theme
- Swipe bug fix
- Some other bug fixes and improvements.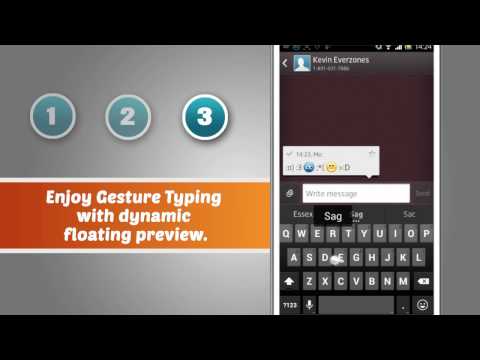 Write the first review for this app!