Kopi Tiam
Experience managing a coffee shop Asian style! Learn about and also have fun serving many interesting and eager customers that come to your restaurant by preparing dishes like:

1) Egg and onion prata, Paper (tissue) prata
2) Kopi-O, Kopi-susu, teh-O, teh-susu, and many other drinks!
3) dim sum
4) Hainanese Chicken rice and roasted chicken rice
5) Satay!
6) Nasi Lemak Ayam goreng or Ikan goreng
7)Mee rebus, mee soto ayam
All these and more!

Kopi Tiam is the first Android time-management game featuring popular local dishes from Singapore, Malaysia and some say Indonesia!

Serve your way through more than 60 fun levels across 3 districts in Singapore: Little India in Serangoon Road, ChinaTown in downtown Singapore and Malay Village at Geylang Serai! Or you can also visit these local districts in Singapore yourself by taking a ride on the ubiquitous SBS transit buses or the convenient SMRT or LRT trains!

If you love being a manager and manage your own food empire this is the game for you! Learn how to cook South-east Asian food, manage customers and manage your profits! As you progress through the game you will be an expert at management and speed will come naturally. It's all about strategy!

Watch the game trailer:
http://www.youtube.com/watch?v=loUwzbQJVYs

visit Kopi Tiam's Official webpage:
http://afzane.com/games/kopi_tiam/kopi_tiam.html

I will continually update this game to add more dishes, challenging VIPs and more levels!
For updates on Kopi Tiam the game, visit Kopi Tiam's Facebook Page:
https://www.facebook.com/KopiTiamGame

Don't miss out on the fun!

And for nostalgia's sake, here's Kopi-O!
http://www.youtube.com/watch?v=a2ngqUY8h6w

Recent changes:
Here's what is new in this update!
1.6.0.0 ---> 12 new levels added to Little India! Play them NOW!
** if the game can't start and closes immediately after you updated it, try to open this game several times. Also try clearing the "recent apps" dock after every try.**
1.5.7.1 Fixed the distorted image background in the breakfast levels
1.5.7 game is now for widescreen.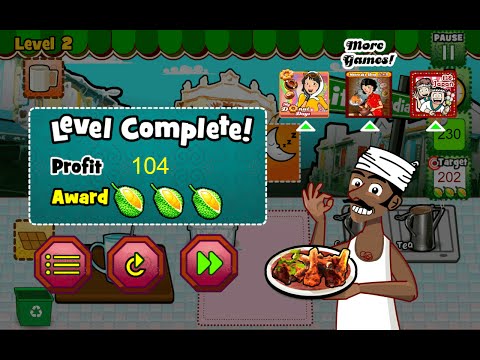 Write the first review for this app!