Kupony McDonald's
Cześć! Mam dla ciebie świetną aplikację. Musisz ją tylko zainstalować i możesz zacząć oszczędzać pieniądze używając Kuponów McDonald's wielokrotnie! ** Od dzisiaj będziesz płacił mniej ** Dlaczego akurat ta aplikacja? To proste, zadbałem o to, by Kupony McDonald's zawierały wszystko co najpotrzebniejsze.

- Kupony Rabatowe w formie listy testowej lub graficznej
- Aktualne promocje w restauracji McDonald's
- Aktualne menu Śniadaniowe oraz Klasyczne restauracji McDonald's.

** Kupony zawarte w aplikacji możesz wykorzystywać wielokrotnie! **

Poza tym, możesz zarządzać swoimi kuponami i najlepsze z nich oznaczać serduszkiem. Dzięki temu znajdą się one zawsze na syczcie Twojej listy i już zawsze będą pod ręką.

Aktualnie McDonald's wrzucił kupony rabatowe, które są ważne o 26 sierpnia! Nie czekaj, pobieraj!

Smacznego!

Recent changes:
- BRAK REKLAM!
- 2 nowe kupony do 20 października!
- informacja o darmowej kawie do 26 października!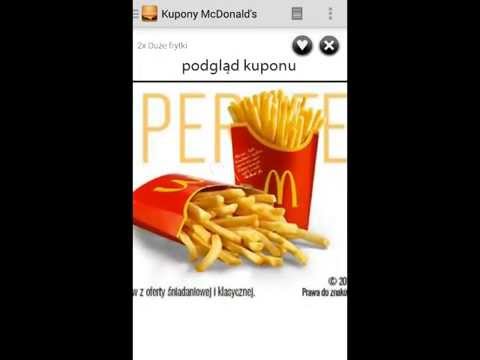 Write the first review for this app!