Learn Punjabi
Start learning Punjabi alphabets and numbers today with this android app...!!

"Learn Punjabi" is a lite version of "Learn Punjabi Advanced" app available in play store.

More than 49,000 punjabi learners have downloaded this app for Learning Punjabi.

It helps learners to learn Punjabi alphabets, numbers and words quickly. If you like this app you can upgrade to "Learn Punjabi Advanced" that includes more number of sections and some awesome features.

Features of lite version of Learn Punjabi:
* Touch and listen pronunciation of Punjabi alphabets, Numbers(Ginti) and draw gurmukhi alphabets on drawpad.

* Drawpad has on screen instruction that helps in drawing punjabi alphabets
* Drawpad comes with various drawing options under Menu:
1. Draw Emboss alphabets
2. Draw blur alphabets
3. Draw alphabets using simple color
4. Use "Eraser" to rub alphabet drawn or
5. Use "Clear Screen" option to wipe out the entire screen
6. Choose different colors using "Choose Color" option for drawing Punjabi alphabets.

* Touch and listen some words under Words(Akhar) section.
Currently it has words for "Mukta", "Kanna", "Sihari" and
"Bihari". Other sections are available with Advanced version of this app.

* App to SD card supported.

Recent changes:
Learn Punjabi Version 6.0
Two new sections have been added: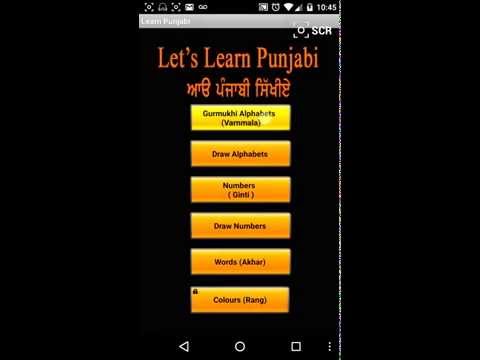 Write the first review for this app!