LIA Mobile
What is LIA Mobile
Lia Mobile is an application for iPhone and Android that will completely change the way you get informed on different subjects, for example special offers from the best hotels and restaurants, music events, travel suggestions and many other activities. The strength of LIA Mobile is the fact that it focuses on the local communication of useful information just in the place you are in!
As soon as the users download the LIA application, they will get real-time information and offers from all advertisers. With just one click they will be able to display the advertisements. The advertisements can include texts, pictures and videos.
How it works
after choosing the typology/category concerning the offer they want to publish, the advertisers can enter their data (company name, address, phone number, e-mail address, website address, text with description, photos…) and copy their YouTube video link!
Once they fill in all information the users in possession of LIA Mobile can choose the visualization area of their advertisement.

Recent changes:
Now you can share your preferred ad!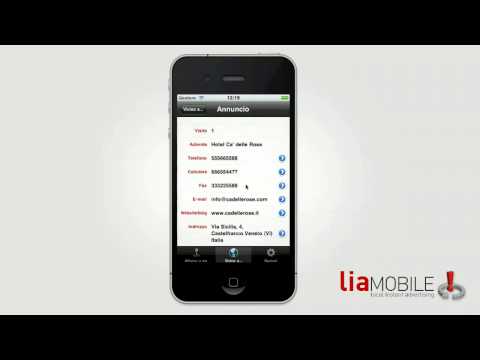 Write the first review for this app!
No comments in the Android market yet