Liverpool Kop 3D Free
This is the FREE version, in appericiation of the excellent feedback receieved and Liverpool's fantastic league position, this LWP wallpaper is now being offered with fully functional features inc. all animated banners/flags enabled. It does not feature the YWNA anthem sound. Download it to ensure it works on your phone. Support developments, please consider buying the fully featured Pro Version.

A truly unique and amazing 3D Live Wallpaper of the legendary Kop of Liverpool Football Club.
Experience the atmosphere of true European nights at Anfield with the kop going wild with animated fans singing 'You'll Never Walk Alone', waving flags, scarfs, setting flares off and swinging.

Key features:

• 3D Live Wallpaper
• Sound – crowd singing You'll Never Walk Alone (Pro Version)
• Animated fans
• Fully animated flags and banners (NEW! Make us dream + Shankly banners)
• Fans lighting flare (Pro Version)
• Ability to control volume of YNWA anthem (Pro Version)
• Ability to show/hide flags and banners
• True European night experience at Anfield
• Realistic Kop End in 3D
• Works in both landscape and portrait mode
• Supports various mobile and tablet devices


Please note: some default launchers on Samsung and HTC devices does not support the Parallax Wallpaper (screen swipe feature), in this case turn ON the 'Parallax Wallpaper' from the settings menu, this will enable the scrolling action. Third party launchers such as Apex or Next Launcher offer best swipe experience.

Compatibility: this wallpaper was tasted on Samsung Galaxy Note 3, Galaxy S3, HTC One SV and a 7in Tablet. Built on OpenGL ES 2.0 platform - it is designed to work on devices running Android OS Gingerbread 2.3.3 to all newer versions. System Requirements: minimum 1GB RAM is a must!


Installation: 1. On Home screen, long press (press & hold) 2. Live Wallpaper 3. Liverpool Kop 3D Free.
See settings menu for more details.


Reminder: please read app description to see if its compatible with your phone. It's very disheartening to receive 1 star ratings when people can't be bothered to read the description properly.

Known issue: This wallpaper currently does not work on Samsung phones running KitKat 4.4. Hopefully there will be a fix soon.

REVIEWS:
Extract from recent reviewed by www.meegg.com


App has fantastic 3D graphics. The app is tested and compatible with numerous HTC and Samsung devices. This is one of the best live wallpaper on playstore and not just for Liverpool fans but anyone who loves beautiful 3G graphics.

Recent changes:
Version 1.1.1 Minor fix + link to my new release England 3D LWP included in Settings.

Updated version 1.1:

BIG UPDATE!! In appreciation of the fantastic feedback received, and Liverpool's magnificent league form - I am now offering the FREE version as a fully functional LWP with all banners & flags animated!

NEW! Make Us Dream banner
NEW! Shankly banner
NEW! Full animation

Known issues:
Loading problems on Samsung devices running the new KitKat 4.4 OS version.
Working on a fix.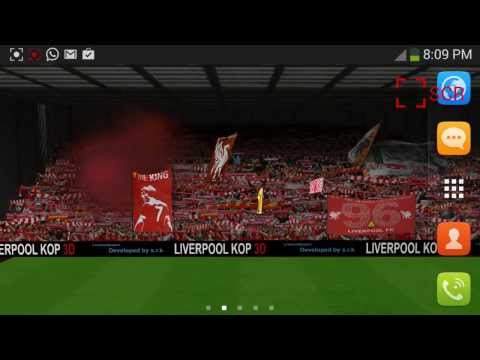 Write the first review for this app!