LocalCast for Chromecast/DLNA
Get your media on the TV with LocalCast!

Features:

☆ Cast movies, pictures, videos and PDFs
★ ... from your device, Google Drive, Google+, Dropbox, NAS (DLNA / UPNP or SMB)
☆ Use your phone as wireless headphones !
★ Rotate / Zoom pictures and movies (Chromecast only)
☆ Pan pictures (Chromecast only)
★ Add subtitles and change the subtitle font size (Chromecast only)
☆ Open a movie stream in your browser then hit the share button and choose LocalCast or
★ Copy a link to a movie and choose "Paste link" in the app

Beta downloads: http://goo.gl/8Efbo9

(* internal subtitles which are inside the video container don't work YET
arabic subtitles: Please change the encoding in the settings to UTF-8)

Usage is pretty easy:

1. Connect to a device
2. Choose what to stream

Please check out the supported formats on the official Chromecast page:
https://developers.google.com/cast/docs/media

If your format is not supported by the Chromecast, use handbrake to convert the file:
http://sourceforge.net/projects/handbrake/

Free and ads supported, the ads can be removed via an in app purchase for a price from 1 to 5 €. Choose what you'd like to pay.

I am just one independent developer working on my apps whenever I can, without a big budget for testing on various devices. If you find a bug please contact me via Google+ or email and I'll try to fix it ASAP. Thanks for your support and happy casting!

Translations:
https://crowdin.com/project/localcast

Permissions:
In-app purchase: to remove the ads
Storage: to search media
Allow WiFi Multicast: for the server
Network communication: Chromecast/Internet/etc.
Your accounts: Google Drive/Google+
Phone state/identity: Pause/Resume on incoming calls

*** Anonymous Usage Statistics ***
This App gathers anonymous usage statistics through Google Analytics to find bugs and enhance future user experience. You can opt out by deactivating this option in the App's settings.

Recent changes:
"Remove ads" renamed to "Pro version".
If you purchased "Remove ads", you have the "Pro version"!
The current free features won't change -ever-, but I'll probably add some useful features to the Pro version, like the search.
Icon materialized, lots of changes and improvements.
New tablet layout for larger tablets, Sonos devices added, multiple layout tweaks, pro features, dropbox browsing, etc. Full changelog in the app.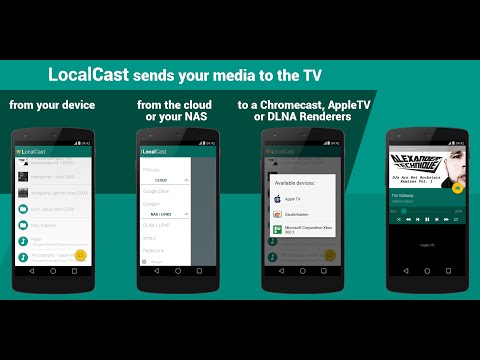 Write the first review for this app!